As the #BringJammeh2Justice campaign is increasingly gaining momentum, victims of the late Chadian leader, Hisséne Habré, and their Gambian counterparts are exploring ways to get redress.
In a just-concluded conference, which was held at Hotel VDN, Dakar, the African Network against Extrajudicial Killings and Enforced Disappearances (ANEKED) Founder, Nana Jo Ndow, said many challenges remain in Gambia in spite of the 'significant gains' achieved.
"This conference brings together victims of the dictatorships of Hissène Habré and Yahya Jammeh for a learning exchange that we hope will empower Gambian victims to effectively assume agency as lead actors in the struggle for justice and accountability," she said at the opening of the two-day (December 13 & 14, 2022) conference.
Organised by ANEKED, the conference was supported by the African Transitional Legacy Fund, Amnesty International Senegal, the Attorney General's Chambers and Ministry of Justice of The Gambia and Trust Africa. Other partners such as the United Nations Development Fund and the Office of the United Nations High Commissioner for Human Rights have also thrown their weight behind ANEKED to making sure the interface between victims in Chad and in The Gambia, become a reality.
Diving into the past, she re-echoed that the Gambia's Truth, Reconciliation, and Reparations Commission (TRRC) has submitted its damning report, confirming that Jammeh's two-decade-long regime was punctuated by arbitrary, enforced disappearances, and extra-judicial killings.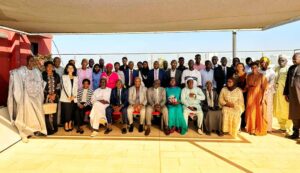 According to her, the TRRC findings did not come as a surprise to anyone. But she was quick to add: "they did set off a countdown towards the day when crimes against humanity committed against Gambians, Senegalese, Ghanaians, Nigerians and other West Africans are finally being prosecuted."
Addressing the gathering, Senior State Counsel at the Ministry of Justice, Aji Adam Ceesay, took the opportunity to remind the gathering that the TRRC report was subsequently followed by a White Paper delivered by government, "accepting almost all the recommendations."
She made it clear that the process is now at the implementation stage as authorities are facing a backlash over 'slow pace' in bringing perpetrators to books.
"As you may already know, the Government is collaborating with ECOWAS in the establishment of a Hybrid Court within The Gambian Judiciary to prosecute persons alleged to have committed serious human rights violations during the reign of former president Yahya Jammeh," she added in an attempt to shutdown any speculations about their commitment to the truth commission recommendations.