As it's said in an African proverb: if the herb that you seek in the forest grows at your own backyard, are you not saved the journey?
The clamour for the extradition of erstwhile President Yahya Jammeh from Equatorial Guinea has been there for the past six years.
Mr. Jammeh is wanted for a plethora of rights violations and plundering of the Gambian coffers.
But as his extradition to The Gambia looked far-fetched, the former Gambian dictator is now giving the members of his victim community a cause for celebrations.
As the arm of the law appeared long to many victims of Jammeh, the former Gambian strongman has renewed and reinforced their hope for justice.
Indeed, it would appear the wind of accountability for alleged Jammeh crimes has started to blow.
Jammeh is now ready to offer himself for trial over gross human rights and financial crimes!
Is this not the time we've all been longing for, especially when we saw no commitment on the part of Jammeh's host Obiang to hand over his guest to any competent court of jurisdiction?
Therefore, the Attorney General's Chambers and Ministry of Justice should hasten the setting of its touted Special Court because Jammeh will be in the country soon, if his weekend statement to the community of Diabugu is anything to go by.
Since the Gambia government is not that financially muscular to execute the Jammeh trial project, we expect our partners in development to chip.
Regarding Jammeh's abode whilst he awaits trial, it's our opinion that the current prisons structures need to be bolstered in view of the jail breaks in recent years.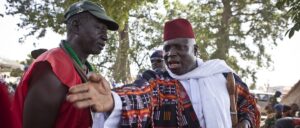 To restrain Jammeh from attempting any prisons escape, the administration as well as the structures of our prisons must be critically looked into.
His arrest should be executed in such a way and manner that even a chicken would not be touched.
Neat operations!
The State should also put in place robust measures to deal with any individual or group of people for any attempt to destabilize the country as a result of Jammeh's arrest and subsequent detention.
At this juncture, we would like to advise the government to respect Jammeh's right to a fair trial in the event he was taken to court on home soil; the prospects of which is now very much there.
Meanwhile, we here at JollofNews say Welcome Home Babili Mansa!