UDP leader Lawyer Ousainou Darboe has asserted that it's an incontrovertible truth that the UDP will take the country.
According to Hon. Darboe, the UDP had succeeded in disabling President Adama Barrow's mobilization machinery not long ago after making earlier threats to that end.
"We said we would make sure people didn't turn out in numbers to welcome the President and we succeeded in that," the UDP secretary general gloated.
"When he returned (from Meet The People Tour), people did not turn out to welcome him (President Barrow) but when UDP was coming (from Janjanbureh), it was a groundswell," Darboe said with a tone of contentment.
The leader of the Gambia's main opposition party has been leading the front in whipping up confidence in the UDP following the arrest and subsequent detention of the party's campaign manager.
"Do not lose sleep over it (Sabally's arrest). Go, eat, drink your Attaya and sleep until you snore. They said he was arrested because of his utterance on TikTok that we will take the country before the elections(local government elections). In my opinion, if he'd said that we will take the government before the area council elections, that could've been worrying," Hon. Darboe said in a rather uncompromising tone.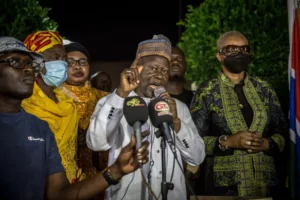 "Are we (UDP) not poised to stifle the NPP? If that is success, then we will take the country," he added.
"To take a country and to take a government do not mean the same thing. They are trying to intimidate you but don't be cowered," Darboe told supporters that congregated on Wednesday to show solidarity with Sabally.