The statement that deprived Mr. Momodou Sabally of his liberty for the past few days is nothing but a mere expression of intent.
We will take the country may also mean we will strongly hold all the grounds.
Equally, it may also mean we will cover all the grounds.
This is our understanding of what Sabally was trying to put across.
As simple as that!
In intelligence gathering, paranoia and prejudice could lead to disastrous outcomes.
Mere political statement of intent should not be misconstrued as an attempt to usurp power.
Certainly, it's obvious to everyone that Mr. Sabally lacks the capability, morale and the terrain to launch a successful coup.
He does not have a cult following in the security forces and it may take months or even years before his thousands of followers on social media could overrun State House if he decides to launch a guerrilla warfare.
The quality of our intelligence must be topnotch, you know!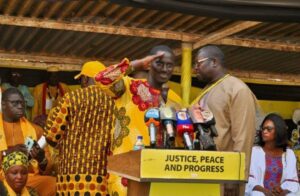 Pouncing on people for expressing mere political rhetoric that has no internal security ramification is yet another indication of a narrowing democratic space.
Free Sabally now and work on convincing the Gambian population and the rest of the world that Cpl. Sanna Fadera indeed planned to lead a coup.