Mbalax maestro Wally Seck met Gambia's millionaire entrepreneur Dr. Abubakary Jawara on Sunday to talk business.
The meeting between the two huge names in the Senegambia region came hours after Wally staged a spectacular performance at the Coco Ocean on Saturday.
Dr. Jawara and Mr. Seck used their meeting as an extremely vital platform to discuss issues around cultural exchange and music development.
They exhaustively discussed how the two can work together in a mutually reinforcing manner for the betterment of the music industries of The Gambia and Senegal.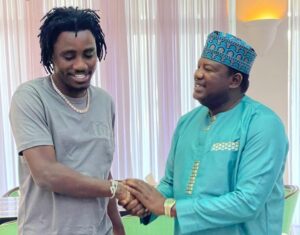 Meanwhile, Dr. Jawara welcomed Wally and his delegation to the country and told them to feel at home and continue to regard Gambia as a home away from home.
He also recognized and expressed appreciation for the hospitality always accorded to him by Senegalese artists whenever he visited Dakar.