Organizers of today's protest for the release of Momodou Sabally are hoping to draw bigger crowds onto the streets next weekend if the authorities refuse to release him.
A sizeable but significant protest erupted on Sunday morning at the usually boisterous Westfield intersection for the release of Mr. Momodou Sabally.
Though the peaceful protest was met with brute force from the police, organizers were satisfied that they have made their point.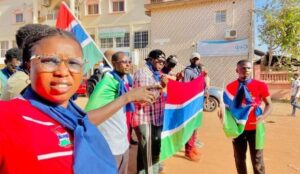 And, they promised to descend down the streets again on 2 January 2023, for more potests.