The lawyer for Momodou Sabally said he was this morning manhandled by the paramilitary deployed to break up a peaceful protest for the release of his client.
A sizeable crowd of youth this morning staged a protest at Westfield as Sabally continues to be detained by the Gambian authorities.
But the protest turned ugly when the teargas-happy paramilitary started to deploy gas on the protesters.
The police also adopted heavy-handed measures by attacking the protesters, manhandling and injuring others.
The attorney for Mr. Sabally was reportedly among many of the protesters who were subjected to abuse.
"I have been kicked and punched by the members of the Gambia Police Force, while all of the protesters were knelt down during the Never Again Protest today," Sabally's attorney Abdoulie Fatty wrote not long ago.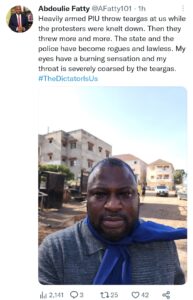 "Sadly, the police brutality that we all fought for is back in The Gambia. We will continue to speak against Injustice in The Gambia," he added.