Press Release
Dr. Abubakary Jawara has on Tuesday 27 December, 2022 met the Senegalese super star Baba Maal at the Fatou Golden Plaza at Bakau on a familiarization visit.
Welcoming the entourage of the Baba Maal who made his mark in the African cultural music, the Chief Executive Officer of the GACH Group, Dr. Jawara expressed heartfelt gratitude for meeting Africa's greatest legend in the music industry for taking time to visit him in his office.
GACH Group Boss also thanked the members of the Fulbeh Africa for creating the enabling environment for the meeting whilst reassured his continuous support in their upcoming activities.
Also speaking at the familiarization visit, Baba Maal equally expressed gratitude for the reception he was accorded by Dr. Jawara.
"This is the kind of people I want to meet. We have lot of responsibilities as Africans and this is the kind of generation I want to meet who will be uplifting the young ones," Mr. Maal added.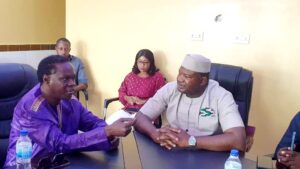 Mr. Baba Maal who is the UNDP and UNCCD goodwill Ambassador, calls on african citizenry to emulate the good work of Dr. Abubakary Jawara adding that "if everyone is doing as Dr. Jawara Africa and Africans will not depend on any foreign support but will instead be partners with the rest of the world".
The Senegalese super star concludes by encouraging the GACH Group boss to continue the great work for the people of The Gambia and Africa as a whole.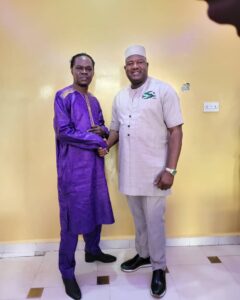 On his part, the President of Fulbeh Africa, Alieu Sowe also used the opportunity to call on Dr. Abubakary Jawara to support his organization, saying they are at hand with many projects to implement.
President Sowe also recognized the service and contributions of Dr. Jawara towards national development and youth employment.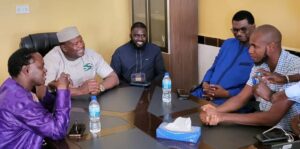 " We are following what you are doing out there and we are also seeing everything. You could have been elsewhere around the globe but you choose to stay back home and support the people", he concludes.
The familiarization visit ended pose of pictures.