After almost two decades of professional relationship, The Point newspaper and Philip Kotey have now severed ties.
The severance of the ties is not the only issue but The Point newspaper has also decided to sue Mr. Kotey for theft.
The case is currently in progress at the Kanifing Magistrates' Court.
Read this Big Interview to learn from Mr. Kotey himself about how he met Pap Saine and many other germane questions.
Relax and happy reading!
Excerpts:
JollofNews: Thank you so very much for finally budging to our persistent requests for an interview.
PHILIP KOTEY: It's my pleasure.
JollofNews: You had a professional ties with The Point newspaper, spanning two decades.
How did it all start?
PHILIP KOTEY: Thank you very much for that question. Well, I knew Pap Saine through the late Deyda Hydara. I and Hydara used to meet at a barber shop. It was there that we started to build relationship after he became aware that I was an accountant by profession. I was privileged to have discussions with him about The Point newspaper and that's how I got involved.
I used to work with him on issues of income tax and how to transition the newspaper to a daily.
JollofNews: Then what happened?
PHILIP KOTEY: Well, Deyda Hydara was killed in 2004. My relationship with the paper continued because Hydara had already introduced me to Pap Saine.
In 2005 or thereabouts, I resigned my job at New Vision Insurance company to join The Point newspaper fulltime.
JollofNews: What made you quit your accountant job with a bumper salary to join The Point?
PHILIP KOTEY: Well, I realized that The Point was going down and many people did not want to associate themselves with the paper.
I realized that the paper was in dire need of salvation in many ways.
JollofNews: What do you mean?
PHILIP KOTEY: The paper was going down and down, I'd thought. The financial mismanagement was pervasive and it was sustained only by bank overdrafts.
When I came, I found out that the paper has a liability of D3m.
There was no prudent fiscal management.
JollofNews: What exactly do you mean by that?
PHILIP KOTEY: The paper was profusely bleeding, in financial terms. Expenditures did not match the revenues and the company was overburdened with financial troubles.
JollofNews: So, you want to tell us that there was no fiscal discipline at The Point when you came?
PHILIP KOTEY: Not at all. And, that was why I decided to jump in and rein in the situation.
JollofNews: How did you do that?
PHILIP KOTEY: I came up with cost-cutting measures. We slashed here and cut there until we were able to pay our debts.
JollofNews: But we were aware that there came a time when you were not paying your staff regularly.
PHILIP KOTEY: That's true but it doesn't mean we were not paying them at all.
JollofNews: That must certainly be very nightmarish for the staff?
PHILIP KOTEY: You're right but the salary delays were all part of the austerity measures we introduced. And, the staff was not unhappy with our arrangement with them.
JollofNews: But that must be very tough for many of them, if not all.
PHILIP KOTEY: We were aware of that but we were able to cross that bridge. This was why I decided to make an arrangement with Global Properties to pleasantly surprise some of those staff, who stayed with us through those trying times,with land allocations.
JollofNews: So, how did it go?
PHILIP KOTEY: We were able to secure 11 plots of land from Global Properties at the Brufut Heights.
JollofNews: That was brilliant.
PHILIP KOTEY: Yes, it was but unfortunately none of the staff, except Nyansarang Jobe, was able to benefit from a land allocation.
The other plots were later shared between the Saine and Hydara families.
JollofNews: Did the staff later learn that the land acquired in their names were later distributed between the Saine and Hydara families?
If yes, what did they do?
PHILIP KOTEY: Yes, some were aware but did not dare to challenge it for fear of reprisals.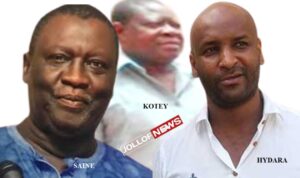 JollofNews: But The Point newspaper has another piece of land in Yundum, we were told.
PHILIP KOTEY: Pap and Baba had already sold that land. Our initial plan was to build a structure there for rent to banks.
This would've allowed us to generate some revenue.
Unfortunately, Baba and Pap Saine decided to dispose it. And even more unfortunate was the fact that Pap Saine and Baba shared some of the proceeds among themselves.
JollofNews: What was Baba's role at The Point?
PHILIP KOTEY: I was told by Pap Saine that Baba is a Primary 3 dropout from the French school around Post Office. When he arrived from the UK, he got stranded at the airport and we had to pick him up. He did not even have money to buy Jerteh Saaf. When he was coming, he thought he was coming to inherit money. He was wrong. I asked Pap what value was Baba of to the paper but Pap said we can assign him to the production department. But Baba was not serious. He would lie about being at work when he was really partying in night clubs.
At the end, he became a liability to the company.
He was only preoccupied with how to take the company's money to enjoy. I could remember one day, I gave D200,000 to Mamadi to pay our rent to the Catholic Secretariat. Mamadi later called me to say the Secretariat had no receipt book. This was unbelievable. I told Mamadi to return the money. He and Baba later called me and that was the end of that money.
JollofNews: But you seem to be downplaying Baba's role at The Point because he was in both China and Turkey to represent the paper.
PHILIP KOTEY: That's some of the anomalies at The Point I've been talking to you about. Baba was hijacking the opportunities that were meant for reporters. He was doing this in cahoots with Pap Saine. Those programs were actually meant for journalists.
JollofNews: We're in receipt of information that Pap Saine once held you in high esteem.
What has changed?
PHILIP KOTEY: Pap allowed himself to be messed up by this boy (Baba). He was at Baba's beck and call, hence his entanglement in a mess.
He refused to tell Baba that there weren't millions to be inherited at The Point.
JollofNews: But you were enjoying donor funding?
PHILIP KOTEY: That's true. We got some support from the British High Commission and organizations also helped.
JollofNews: So, what happened to some of the funds you received from organizations?
PHILIP KOTEY: Let me tell you a story. There was a time when Pap Saine was given 10,000 euros for The Point. Do you know what he did?
He sent his errand boy Saiba to Latrikunda market to buy me a watch. Unbeknownst to him, I was aware that the watch was from Latrikunda market. When Pap presented the watch to me, saying it was a present from Europe, I took it and told him Thank You for your watch from Latrikunda market. Do you know what he told me? He retorted by saying: really, really, Saiba is a bastard. (rib-breaking laughter).
TO BE CONTINUED…