Foni legislator Bakary Sanneh has suggested that any attempt to arrest former Gambian President Yahya Jammeh on Gambian soil will be met with a fierce resistance.
"Arrest him (Jammeh) and see whether anybody will sleep in this country," he told King FM Felerango morning show today.
As calls intensify for Jammeh's trial either domestically or internationally, the pro-Jammeh APRC No To Alliance legislator said Jammeh has fulfilled his side of the bargain,regarding his exit from the country.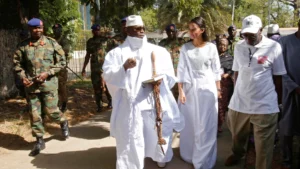 "But the 14-point agreement that he reached with other players has been breached. He deserves to return here and live in peace. He was never banished but he stepped aside to give peace a chance," NAM Sanneh told hosts Assan Ceesay and Mariama Fatty in a marathon interview this morning.