As promised on Monday, we hereunder reproduce the revealing interview we had with the estranged GM of The Point newspaper Mr. Philip Kotey.
Relax and happy reading!
JollofNews: But we also learnt that the US embassy was supportive to The Point newspaper.
PHILIP KOTEY: After three years, we were able to wean ourselves of overdrafts and things started to look up. I wrote many project documents to embassies, high commissions and organizations to seek resources for expansion because that's what I learned. The British High Commission gave us a vehicle, the US embassy was very, very supportive and so was Pro-poor Foundation.
JollofNews: But as things started to brighten up, Pap Saine and his editor got arrested.
Can you take us through that?
PHILIP KOTEY: Yes, Pap got arrested by the government and they were detained. It was a very difficult phase for us all. Nobody wanted to associate with The Point. However, I stepped forward and remained resolute in ensuring that the paper survived all those intimidating tactics.
JollofNews: And Pap was probably elated that somebody stayed behind to ensure the The Point did not die.
PHILIP KOTEY: Ideally, that should've been the case. However, when Pap was released from detention, he convened an editorial meeting in my office to declare that he had decided to quit and seek sanctuary in Senegal because his family did not want him to die.
JollofNews: This must have been demoralizing to the staff, who may be looking up to Pap, for leadership in the face of State terror.
PHILIP KOTEY: I tried to dissuade him from taking such a move at that material time and of course, in the circumstances.
JollofNews: Did you succeed in reining him?
PHILIP KOTEY: Yes, I did.
JollofNews: How?
PHILIP KOTEY: I told him he can't do that because if he had gone to Senegal, the journalists' organizations that wanted to help him with his overseas treatment would not. I told him not to publish his intention to quit because it was not the right decision at that moment.
JollofNews: Why not?
PHILIP KOTEY: The hospital that he was supposed to receive treatment was charging 1000 Pounds per night. He could not pay that for himself. The treatment was going to cost D900,000 and he didn't have that kind of money. I told the editors not to publish anything about his "intention" to quit.
JollofNews: Then you managed to convince him to stay on?
PHILIP KOTEY: Yes, I did but when things started to pick, he started to betray.
JollofNews: What exactly do you mean?
PHILIP KOTEY: What I don't like is to deprive people of their sweat. He was hijacking travel opportunities for journalists. I confronted him on several occasions to allow young journalists of The Point reap the fruit of their labour but he would not listen.
JollofNews: Were the young journalists of The Point complaining about this?
PHILIP KOTEY: Yes, they were but with hushed voices. They wanted to safeguard their jobs.
JollofNews: How about you? Did you ever feel betrayed by Pap?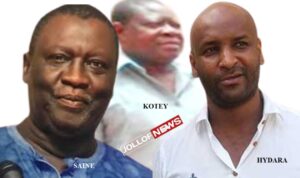 PHILIP KOTEY: On many occasions but I felt profoundly betrayed by him when he went to Germany to receive an award on behalf of The Point. They gave him 10,000 euros for the paper's development. The funny thing is when he came back, he sent one of the errand boys Saiba to Latrikunda market to buy a wrist watch for D75. That day Saiba informed me that he was at Latrikunda market to fetch a watch for me at D75. The next day, Pap came to the office and asked whether I've received the watch he said he brought from Germany. I told him thank you for your watch from Latrikunda market. He was baffled, stared at me and then retorted by saying Saiba is a real bastard (rib-breaking laughter).
JollofNews: We suppose you were also watching from a distance The Point's latest commemorative events for its 30+years in the newspaper business.
PHILIP KOTEY: Indeed, I was. The saddest part of it all was that Pap was congratulating people he said did well for The Point without mentioning my name. The event was held in an office I managed to rent from the Catholic Secretariat on behalf of The Point. How I struggled to get that place.! It was not easy to get it.
JollofNews: But is it true that one of your female staff got suspended because she did not want to testify in the theft case involving you and The Point? Can you explained without talking about the substance of the ongoing trial?
PHILIP KOTEY: Yes, of course. Kumba Sankareh was suspended for refusing to serve as a prosecution witness.
JollofNews: But we heard Baba returned home with great ideas.
Philip Kotey: He was building castles in the air. He has no stuff in the head. When he returned, he said he was going to build his own brand like The Fatu Network but that failed. He said he was going to supply artificial stuff to GFF and he hoodwinked Pap into going with him to the GFF. When it was time for Baba to show GFF he meant what he was saying, he could not convince. The GFF knew that these people were fake. Baba said he would be supplying news prints, nothing worked. He and Pap were only preoccupied with how to take money from the company. Baba was only interested in money to go to nightclubs. Everyday, he was asking for money. Pap was putting money into his pocket to go to Banjul. So, the company started to go down and down again. And, the staff members were suffering. If Pap and Baba were to buy seven rims, they would buy three and they knew where the rest of the money went. This situation was seriously affecting the company's financial health and the employees bore the brunt. They were left out. Everything was down. You don't run a company like that.
To Be Continued.