How the Coalition Political Leaders Betrayed Solo Sandeng who gave his life for them!
No one expects to protest in order to be killed. Therefore, Solo did not protest on April 14 just to end up dead and given a so-called state funeral. The objective of Solo and his Compatriots on that infamous day was to demand that the Gambia has good laws and institutions for the good governance of this country. Anyone who demands better electoral laws is only seeking better governance and democracy for the country.
Thanks to the protest led by Solo, the nation was galvanized to confront the Yaya Jammeh Dictatorship in a manner never seen before. The events of April 14 culminated into a series of events that mobilized, organized and emboldened Gambians to rally behind their fragmented political parties and leaders in a grand coalition against the Tinpot Dictator. The victory of the Coalition and Adama Barrow in the 2016 presidential election was glaringly and purposely a repudiation of dictatorship and a yearning for a new democratic Gambia from the shackles of oppression, corruption and fear.
The beneficiaries of this supposedly new Gambia were the Coalition political parties whose leaders came to acquire the highest decision-making positions in the new government. At the level of the presidency, Adama Barrow and party leaders became cabinet members, while the rest went to become National Assembly Members. Together, the Coalition had full control of the Executive and the Legislature, the two topmost decision-making bodies of the Republic. Yet seven years down the line, there is no system change! Why?
Adama Barrow, Aji Yam Secka, Ousainou Darboe (in jail by then), Fatoumatta Tambajang, Halifa Sallah, Sidia Jatta, OJ Jallow, Isatou Touray, Hamat Bah, Mai Ahmad Fatty, Henry Gomez and Bolonding Sonko were the heads of political parties and formations that constituted the Grand Coalition in December 2016. The Grand Coalition led by these parties and leaders had an MoU and a presidential election manifesto in which they stated in no uncertain terms their ardent desire to effect system change upon winning the elections.
On January 19, 2017 Adama Barrow was inaugurated as the third President of the Republic. His Cabinet was saturated with Coalition leaders in the persons of Fatoumatta Tambajang as vice president, Ousainou Darboe, first as foreign minister and then vice president, Isatou Touray, first as trade minister, then as health minister and finally as vice president, with the rest as Ministers – Hamat Bah, Mai Ahmad Fatty, Henry Gomez, Lamin Dibba, Lamin Ndambu Dibba, Amadou Sanneh, OJ Jallow and James Gomez.
In the Legislature between 2017 and 2021, Coalition parties dominated the National Assembly with UDP having 31 seats (with 8 eventually cross-carpeting to the NPP), PDOIS 4 seats, NRP 5 seats, and PPP 2 seats. The Speaker Mariam Denton, Deputy Speaker Momodou Sanneh and Majority Leader Kebba K Barrow came from UDP while the Minority Leader Samba Jallow came from NRP. Therefore, the National Assembly is 100% under Coalition Control.
Behold, The Betrayal!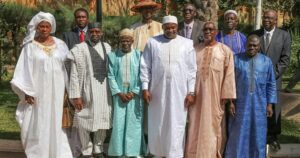 Instead of these leaders embarking on the full and uninterrupted implementation of their own MoU and Manifesto and uphold the ideals for which Solo Sandeng was brutally murdered, these leaders rather decided, shamelessly, to cut out deals for themselves. First, they changed Section 62(1)(b) of the Constitution to remove the age limit for president in order to enable Fatoumatta Tambajang to qualify to be appointed vice president in November 2017. Their second selfish and disgraceful act was to also amend Section 91(1)(d) to protect their seats so that they can now cross carpet from one party to another as they like without having to lose their current seat.
Since then, these Coalition leaders completely ignored any demand for system change as they failed to reform laws that are at the heart of human rights, democracy and good governance. When the draft constitution was presented before them in September 2020, not only did some of them vote against it just to kill that document, but they also refused to change the Elections Act which was at the heart of Solo's protest. Ironically, it is these very parties which had formed the Gambia Opposition for Electoral Reforms (GOFER) back in 2012 demanding electoral reforms. In 2015, they submitted a 12-point demand to the IEC and the Government seeking to change the Elections Act and the Constitution to create a level playing electoral landscape.
Yet in 2017, when they have now become the actual leaders at the helm of affairs, how come these leaders could completely ignore their own GOFER proposals? How could you cry out for change while in opposition, but the moment you assume power, you kick change in the face! Is it therefore not disgustingly hypocritical, unpatriotic and dishonest that these same leaders would assemble themselves claiming to give a so-called fitting final farewell to Solo Sandeng? At least Adama Barrow has recognized his own stinking betrayal hence shamelessly kept himself away from that event. Indeed, Solo Sandeng does not need him there!
As Gambians, if we wish to have a country that we deserve then we must know and value ourselves as human beings and citizens. This means we must not allow any person calling himself or herself a political leader to toy with our lives. This is what Coalition leaders have done and are doing to Gambians from 2017 till today. If they wanted change, we would have had the change we deserve by now. Let us hold these leaders accountable knowing that leadership has consequences. Leaders make or break a society, kill or save lives and grow or burn futures. This is why we must hold leaders accountable, mercilessly.
We should not be obsessed with the high-sounding slogans, rhetoric and flamboyance of any politician. A politician is only good if he or she brings tangible change in our lives for the better. These Coalition leaders, individually and collectively had the huge opportunities to bring about change but they refused to do so. Adama Barrow and his ministers refused to take steps to amend laws and reform institutions, while the NAMs refused to hold the Executive accountable or submit their own private member bills to bring the change we deserve.
Solo Sandeng does not belong to these parties and leaders. Solo belongs to the people. Let us not join these leaders to continue the betrayal of Solo and Compatriots. Let us stand up to demand and ensure system change now. Politics is not for the politicians. Politics is for the masses of the people. For our protection and welfare. Therefore, let us not allow politicians to take away politics to make it into their personal property for their selfish ends. If we allow that, we shall all be betrayers of Solo Sandeng.
For The Gambia Our Homeland