The remains of pro-democracy activist Ebrima Solo Sanding were interred on Tuesday six years after exhumation. The burial ceremony was preceded by State funerals aimed at honoring him for his contribution to the triumph of democracy over tyranny.
"We commend government for all what they have done for the Solo Sandeng case," Victims' Chairperson, Sheriff Kijera, told JollofNews in response to a request for comment.
Ebrima Solo Sandeng spearheaded a peaceful protest march in April 14, 2016, demanding 'proper electoral reforms.' The move prompted the Jammeh regime to crackdown on protesters. Dozens of them were arrested, including Ebrima Solo Sanding. He subsequently died at the defunct National Intelligence Agency (NIA) headquarter in Banjul after being subjected to inhuman treatment.
Kijera further stated that seven former NIA officers were sentenced to death by the High Court as they took part in the arrest and subsequent torture to death of the pro-democracy activist.
As calls are intensifying for authorities to shed light on the remains of a good number of victims, Kijera confided to JollofNews that there are other remains that have been exhumed.
"This was done well before the end of the mandate of the truth, reconciliation and reparations commission (TRRC)," he added while indicating that they are facing a major hurdle.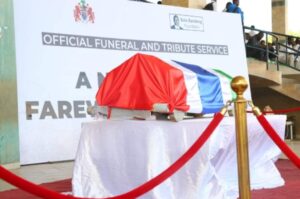 According to him, six or seven remains were exhumed but they are yet to conduct forensic examination that is required for their identification.
"This has to be established before their handing over to their respective families,' he said.
Yahya Jammeh's two-decade long regime was marked by arbitrary arrests, summary executions and enforced disappearances.
Speaking to JollofNews, Agie Mummy Ceesay , whose son was reportedly killed by Jammeh along with his childhood friend, remains skeptical about the "Junglers" readiness to cooperate with investigators.
The two Americans with Gambian descent went missing during a visit to Gambia, sending shockwaves across the globe. The duo came to their native country to explore ways of resettling in the tiny West African nation.
A least two "Junglers" have confirmed they were arrested and taken to Jammeh's home village, Kanilai. They also confessed they got murdered at the direction of former Gambian leader.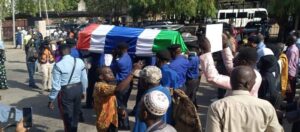 She expressed hope that the remains of Alhagie Mammur Ceesay and Ebou Jobe will be found and given a proper burial.
The government, she said, should make sure victims have a sense of closure in recovering the remains of their relatives summarily executed under the watch of Gambia's former longtime ruler.