PRESS RELEASE
The Ministry of Transport, Works and Infrastructure wishes to inform the general public that following consultations among various stakeholders, an agreement has been reached to increase the transport fares for all official routes across the country, effective 20th January 2023.
In the same vein, an agreement has been reached to adopt a new tariff for the transportation of containers across the country. This gesture is in fulfilment of the agreement reached with the General Transport Union and the Port Transporters Association.
However, as a condition for the implementation of transport fare increment and the new tariffs, route licensing will be introduced for various destinations across the country. Route licensing is a scheme that allows vehicles to register and ply a particular route.
The main objective of introducing a route licensing scheme is to eliminate the charging of double or triple fares for various destinations. Already, the stickers and permits have been issued to vehicles plying various routes within the Greater Banjul Area. It is expected that the scheme will be rolled out to all other routes within the country in due course.
In light of the foregoing, the Transport Union and heads of Car Parks are urged to ensure that drivers adhere to the principles guiding route licensing. It is anticipated that as the government fulfilled its promise in increasing tariffs, we expect the Union and its members to also fulfil their commitment as per the Communiqué signed in September 2022.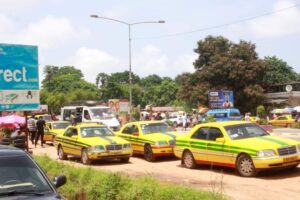 The Ministry would like to categorically state that doubling or tripling fares will no longer be tolerated in the road transport industry. Failure to comply with the new route licensing scheme by the transporters will result in taking necessary actions. Transporters and all stakeholders are urged to comply with these processes.
————-The End…………..
Issued by Ministry of Transport, Works and Infrastructure, The Gambia.