The death has been announced of Badara Alieu Joof, vice-president of the Gambia.
The former civil servant, 66, who served as vice-president since May 2022, died early this morning in India where he was being treated for an undisclosed illness.
Announcing the passing of his deputy on Twitter, President Adama Barrow said "Fellow Gambians, it is with a heavy heart that I announce the passing away of my vice-president Badara Alieu Joof. The sad event took place in India after a short illness. May Allah grant him Jannatul Firdausi"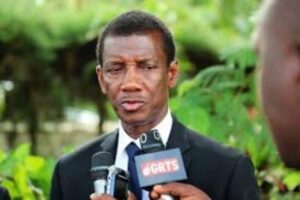 Born in 1957, Joof began his career as a qualified teacher, teaching English at The Gambia College. He was then head of the department of languages and literature at Nusrat High School.
He  served as permanent secretary at the Ministry of Education and Ministry of Local Government and Lands in the former government of Yahya Jammeh.
He was appointed minister of Higher Education, Research, Science and Technology in 2017 by President Barrow before made vice-president in 2022.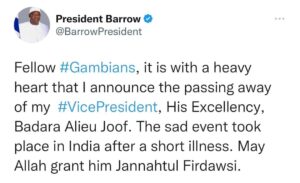 The late vice-president also led a World Bank project in the Gambia from 2010 to 2013 to enhance the efficiency and accountability of non-Governmental Organizations (NGO's) in delivering basic services to the poor in the member country.