The proposed OIC road in New Jeshwang would be skewed towards only one side to avoid electricity poles but massive construction work is currently in progress under high tension cables few kilometers away in Old Jeshwang.
Almost two weeks ago, the Gambia OIC Secretariat officials told representatives of affected families in a meeting that the die was cast as government had no change of heart, regarding the planned demolition exercise in New Jeshwang this week.
According to Physical Planning Department, the main reason for its decision to spare homes and structures on the unaffected side of the road was to avoid NAWEC poles.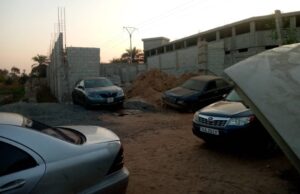 In Old Jeshwang meanwhile, structures have been springing up in such manner that they sandwiched electricity poles with high tension cables,hanging overhead.
JollofNews will make more effort to reach the Physical Planning Department and NAWEC following the futility of previous attempts.