The PPP joined forces with the NPP and other parties in the 2021 battle for State House but the Gambia's oldest party is now feeling betrayed by the NPP.
PPP said the NPP has now ditched it for APRC and NRP.
Consequently, the party and NPP will be battling from different fronts in the fast-approaching local government elections.
The PPP leader Kebba Jallow said NPP has sidelined his party in the current coalition building process.
"If anything, we (PPP) kept our side of the bargain but President Barrow did not do it right," the PPP leader, who served as mayor for KMC in the Jawara dispensation, rued.
"Coalition is all about sincerity. It (sincerity) is what oils the coalition. If we respect the terms of the coalition and others didn't, that's that," erstwhile KMC mayor stressed.
He pointed out that coalition building is not a novelty to PPP and that the party is enduring and still going strong.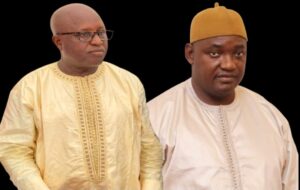 "Do not be aggrieved because that's the nature of politics," Mr. Jallow tried to placate members of his party.
"Today, you can partner with one party and the next day, the other. We coalesced with parties from independence to the Yaya era but coalition is all about sincerity," he said in a message to the PPP membership.