The inauguration of the Basse market was not only characterized by pomp and ceremony but it also filled the people of the Gambia's far-flung region with hope for development.
When a ferocious fire swept through the Basse market some three years ago, it apparently became the concern of many.
Philanthropists, organizations and spirited individuals such as Hon. Ousainou Darboe all joined forces with the government to resuscitate the market.
The outcome is a two-storey edifice with almost all the facilities to fit the market well into the category of modern markets.
However, the executive director of Consumer Association was perturbed that "almost half of the shops at the Basse market have been occupied by non-Gambians".
In an Interview with Assan Ceesay of King FM Felerango morning show, Ebrima Dampha suggested that political rivalry between NPP and UDP could deprive Gambians of maximizing the benefits brought forth by the Basse modern market.
"Former local government minister Musa Drammeh told me in an engagement that the Basse market is not a UDP market," Dampha told Felerango morning show.
Meanwhile, the inauguration of the Basse market and the period leading to it was politically chaotic.
The UDP-led Basse Area Council claimed it was snubbed by the NPP administration in all stages of the market project implementation.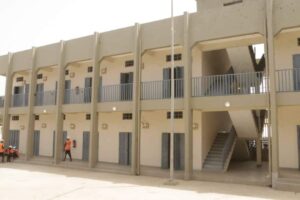 Basse Area Council chairman Foday Danjo accused President Adama Barrow of wrenching his hands from the symbolic ribbon that the President was about to cut to herald the start of business at the market.
Danjo said it was Musa Drammeh, who drove a wedge between him and President Barrow but Drammeh has vehemently denied this.