Secretary General of the UDP, Lawyer Ousainou Darboe, has warned that the NPP is desperate to take a grip on local governments.
Hon. Darboe pointed out that "now that President Barrow had failed to exercise effective control over the central government administration through the National Assembly, the President has other plans".
"There's a mammoth task in hand because he cannot secure a complete grip on the central government administration through the National Assembly. So, their (NPP) next target is local government authorities," the UDP leader told the people of Kombo South during the weekend celebration in Gunjur of the victory of UDP's Kebba K. Barrow in the past legislative elections.
He added: "I swear, the popular view is that local government administration must be decentralized. We all agree that local government authorities must be independent and that government must not pocket them. But today, you've all heard your President, expressing his wish to appoint governors for Kanifing and Banjul."
The veteran Gambian politician also deplored, what he described as, the manipulation of local councils by appointed regional governors.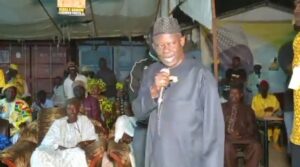 "We see governors in the regions…how they manipulate our councils. Local government administration have been usurping the prerogatives of local authorities, making decisions on their behalf. That's stifling local government administration," Hon. Darboe lamented.