Accelerating AfCFTA Implementation for decent Job creation and resilience to climate change
When I first went to Europe as a student a little over four decades ago, the realisation of the European Union was at its infancy. The media was overloaded with public information campaign for all age group for the "expected baby." There were also heated debates on the pros and cons for this expected "baby." For us, there was no alternative but to learn, and learn as much one can about the Union.
My studies involved extensive travelling within the member-countries at a time when the borders were still closed and the free movement of people was far from taking hold. A single trip at that time, therefore, meant spending hours under freezing temperatures at embassies for visas. A visa for one country was equal to a page in your passport. And when you came across a not-so-kind immigration officer at the boarder (oftentimes the case) that may eventually lead to two or more pages gone as their stamps will embellish the pages. No new visa will ever go into an already used page. The fear then for those of us with fewer pages in our passports was not to have an already filled passport before the study period ended simply because obtaining a fresh passport was like climbing Mount Kilimanjaro unaided.
That was not all. Every country had its own currency which meant going either to the bank or a forex bureau to be armed with the currency of the country to be visited. For the sake of souvenir, you would return with bits and pieces of the various currencies but certainly not run out of it while in a strange country.
As time went by, the continent forged ahead with its common policies and by February 1992 the famous Maastricht treaty was signed. The treaty consisted of three main pillars: the European Communities, a common foreign and security policy, and enhanced cooperation in home (domestic) affairs and justice.
The introduction of the currency was with mathematical progression. It was first the European Currency Unit or (ECU) and gradually metamorphosed into the Euro that it is today.
Africa has started moving in that direction but, alas, at such an alarmingly slow pace that it will need more than the goodwill of its leadership for it to hold firm. The African Continental Free Trade Agreement, (AfCFTA) became operational two years ago after the agreement was signed. True, it emerged at a time when the world, and indeed the African continent, was wrestling with the consequences of the converging economic crises aggravated by the Covid-19 pandemic, the war in Ukraine, and Climate change. These factors have provoked serious debt distress on the continent. Twenty-two of the 55 African countries are either in debt or at a high risk of it as they have been unable to address the aftershocks as could be visibly seen in the rising cost of living and loss of jobs which consequently means, loss of incomes.
At this year's 36th African Union Heads of State Summit, to be held in Addis Ababa, the leaders will be presented with an opportunity to spur the continent's economic recovery and transformation by committing to implement the AfCFTA fully. If implemented fast and properly, AfCFTA could help the continent solve its pressing challenges and realise the African Union's (AU) Agenda 2063 aspirations. Real income could increase by an additional $571 billion, creating 17.9 million new jobs and lifting 50 million out of extreme poverty by 2035.
One body that will be in the forefront to make these happen is the ONE global organisation Campaign Movement. The movement has been committed to campaign to end extreme poverty and preventable disease by 2030 so everyone can lead a life of dignity and opportunity. On the African continent, ONE – a non-partisan movement has been putting pressure on governments to do more to fight extreme poverty and preventable disease and empower citizens to hold their governments to account.
At this summit, the Heads of State MUST deliberate and agree on actions, strategies, and processes to facilitate interregional trade and freedom of movement of people, strengthen investment in human capital, improve ease of doing business, unlock the investment for critical infrastructure, and build resilience to climate change.
These could only be done if the leaders commit themselves to the implementation of the free movement of people, goods and services. Some regional groupings already have such commitments but it has to be continent wide.
They should:
Adopt, ratify, and implement the AU protocol on the free movement of people across the continent; every young African deserves an African passport.
Improve cross-border management by simplifying trading requirements, digitalisation of administrative procedures, and having one-stop border posts make it easy and affordable to do business, and produce goods and services.
Enact and enforce a consolidated national start-up law, similar to the Nigerian Start-up Act, to improve the business environment. The laws should establish equity and guarantee funds to de-risk investment. It should also protect intellectual property rights, simplify and automate administrative procedures, harmonise tax administration, and make information readily available through one-stop digital platforms.
Facilitate access to credit, subsidised loans, grants and financial services.
Unlock additional investment for critical infrastructure and value chains
Support the urgent implementation of the G20 independent expert panel recommendations for MDB optimisation to unlock additional resources and reform how the banks work to be fit for today's challenges, with clear demands for the needed reforms, investment priorities, and conditionalities.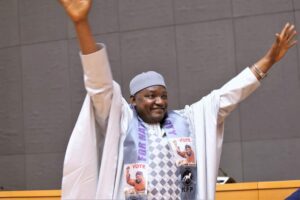 Adopt the recommendations of Dakar 2 declaration on food sovereignty and resilience
Incentivise foreign and domestic investment flows to:
Develop and improve the functionality of special economic zones to boost productivity and lower the costs of operations.
Close the digital divide by 2030 and increase internet penetration from 82.4% in 2021 to over 90% in 2030
Expand road & transport networks, ensuring rural and regional connectivity.
Complement grid expansion with renewable off-grid energy solutions to improve access to reliable and affordable power
Build resilience to the devastating impact of climate change
Climate finance for adaptation is a top priority. Africa is on the frontline of a climate emergency it did not create and is currently facing a financing gap of US$41 billion a year for adaptation. The AU should urge:
High-income countries to deliver on their promises of adaptation finance, which means delivering on the goal of $100 billion a year for any year in 2020-2025, addressing any shortfalls through increased contributions in subsequent years, and setting out a delivery plan for the commitment to double adaptation finance as agreed at COP26
Climate finance providers (developed countries, MDBs, and other institutions) to increase grant-based finance and ensure that a minimum of 50% goes directly to adaptation.
In March 2022, the ONE Campaign and its partners publicly launched the "JobsNowAfrica" initiative and the People's Charter on Jobs Creation in Africa. It was a direct response to the escalating unemployment crisis, worsened by the COVID-19 pandemic and the inadequate response of African governments across the board. Our goal was clear: to call on governments and key stakeholders on the continent to break down structural barriers, make policy commitments that will allow African businesses to thrive and aid the creation of 15 million new decent jobs annually.
Written by George Ola-Davies