Lawyer Ousainu Darboe has warned President Adama Barrow to refrain from acts with potential to stir trouble.
Below is the transcript of Darboe's speech delivered in Gunjur over the weekend:
I heard on social media that a commission of enquiry into conduct of local government administration…whatever. President Barrow, we would like to warn you. If you attempt to interfere with the supreme court judgement in the KMC, Talib Ahmed Bensouda and 54 others against the attorney general, you are making a mistake. We will not allow that in this country. Because you lost on that front, you think you can now come through the backdoor and try to interfere with the local government administration. That's not going to happen here and if you and your people think that you can get interim orders from a nonsensical commission to stop our mayors and chairmen from performing their duties sanctioned by the supreme court and, you said that will not happen in this country. You are calling for trouble.
Section six of the Constitution says every Gambian has a duty to protect the Constitution of this country. The Constitution states that nobody has the power to overturn a court judgement, except through the courts. Supreme Court has delivered judgement that the mayors and chairmen should continue. And in fact, all councillors. If you think those people, calling themselves to be researchers and experts in local governance… If they mislead you until you want to institute a commission…in act of desperation, you say you want to set up a commission, I swear you are calling for trouble. UDP has always advocated for peace in this country but we also cannot accept the government, pushing down our throat something that you know should not happen. We are not calling for any violence but we are saying that we will resist and we will do what the Constitution calls for to be done in this country. You cannot try to set up a commission now. Why didn't you do that two, three years ago when your minister of local government…when he didn't know what to do and wanted to set up a commission of enquiry into KMC, they went to court and they realized that it wasn't feasible. If you are really serious about matters, affecting local government administration in this country, that was the time you should have instituted it(commission). And in any case, Mr. President, you were elected to carry out major reforms in this country and those reforms include local government system in this country. Why haven't you attempted anything seven years on? What are the faults?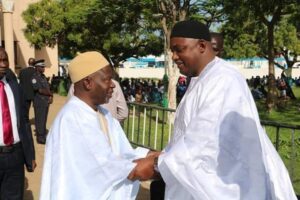 Mr. President, if you think there was anything wrong with local government administration and it needs your attention, I thought you would have appointed team of experts to advise you rather than going on this nonsensical witch-hunting. And, its all witch-hunt but we are waiting for you. This is no political talk. This local government elections, we must show President Adama Barrow and his people that Gambians have rejected him. And, all his ploy will not work.