Lawyer Ousainou Darboe has asserted that UDP will not allow NPP use councils as honeycombs.
The UDP leader warned that if the electorate entrust councils to NPP, they will transform them to milk cows.
"If you allow the NPP to control the councils, you are allowing the NPP to use the councils as honeycombs," Hon. Darboe said on Saturday as he delivered a speech at the victory rally of Hon. Kebba K. Barrow in Gunjur.
He added: "They will squeeze and squeeze the councils. You didn't see what they did to the Covid funds? How many honeycombs did they make out of it? And, their other projects. Is that going to happen with local government authorities? No.That will not happen. We will not allow that to happen in this country. And, we will deny them that by voting massively for all the UDP candidates, ensuring that we control all the councils because if the head is rotten, certainly the body won't function properly."
The UDP SG meanwhile offered a bleak assessment of the situation in The Gambia.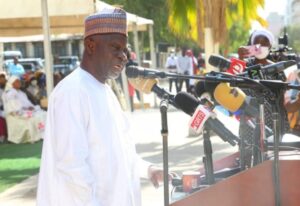 "Already in The Gambia, I can say, is half-paralysed. The central government part of it is paralyzed. The local government side is what's kicking and we will not allow it to paralyze," the UDP leader stated.