Gambian business tycoon Dr. Abubakary Jawara has dismissed as untrue claims by Sabally's lawyer that he (Dr.Jawara) introduced Banta Keita to President Adama Barrow.
According to the millionaire entrepreneur, he never crossed paths with the fugitive Banta Keita in his entire short life let alone introduce him to the President.
Dr. Jawara is currently battling to redeem his reputation after he felt it had been stained by publications, linking him to drugs, racketeering and gunrunning.
He is seeking damages of D8m for defamation, loss of revenue and any other cost as may be determined by the court.
On Friday, Dr. Jawara mounted the witness box at the Banjul High Court annex presided over by Justice Bakre.
Led in cross-examination by lead defense counsel Abdoulie Fatty before a packed but hushed courtroom, Dr. Jawara denied any knowledge of the three tons of cocaine confiscated at the Banjul ports in 2021.
He told the court that he would not call Banta Keita a friend or an acquaintance even in his wildest dreams.
"Is it within your knowledge that three tons of cocaine in a container were intercepted at the Banjul ports in January 2021," counsel Fatty asked Dr. Jawara.
"I heard it the way people heard it," Dr. Jawara replied with ease.
"Do you know one Banta Keita by any means,"counsel Fatty pressed on.
His question was answered in the negative and he then said: "I am putting it to you that you do not only know Banta Keita but you introduced him to Adama Barrow."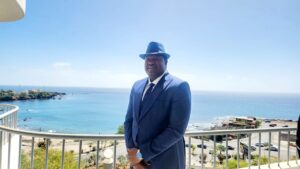 "Objection, my lord," interjected Dr. Jawara's lead lawyer Ida Drammeh.
To her, this question bordered on hearsay and was neither here nor there.
"Can you show me a document that can relate the two," demanded Justice Bakre.
"I withdraw that statement," recoiled counsel Fatty.
Asked by counsel Fatty whether he was aware that a trial around the seized cocaine was underway, Dr. Jawara effortlessly replied: "I am not a drugs law enforcement officer. I am a businessman. I don't think this question is for me. I don't know him."
To be continued….