Millionaire entrepreneur Dr. Abubakary Jawara on Friday informed the Banjul High Court that black sand mining licences have been issued to people since 1926, describing his relations with the community of Sanyang as cordial.
Dr. Jawara sometime last year initiated a legal action against former presidential affairs minister Momodou Sabally for allegedly painting his mining activities in the coastal community of Sanyang as exploitative and destructive.
The GACH CEO was at Banjul High Court annex on Friday where he was subjected to hours of intense cross-examination by Sabally's attorney.
"GACH mining was issued a licence to mine black sand and, is that true," quizzed defense counsel Abdoulie Fatty.
"Yes, the licence was issued to me for black sand mining and it has been issued to people since 1926," Dr. Jawara stated.
Still testifying under cross-examination, the GACH boss said he followed due process when he sought mining licence.
"When you were making an application for sand mining licence, did you submit a project brief, environmental plan," enquired counsel Fatty.
"I only followed due process and I fulfilled all the requirements," responded the plaintiff.
"I will put it to you that according to one Lamin Camara, due process was not followed," counsel Fatty fired back.
"Objection, my lord," Dr. Jawara's counsel I. Drammeh rose to say.
"With all due respect, I don't think that's fair. If he connects anything to Lamin, let Lamin be invited," senior counsel Drammeh argued.
"My learned friend is trying to restrict me," contended counsel Fatty.
However, Justice Bakre presiding, concurred with senior counsel Drammeh.
"And, I agree with her because the questions you asked were not pleaded," Justice Bakre pointed out.
"I will withdraw the questions," recanted Fatty.
Meanwhile, when asked by Sabally's lawyer whether he fulfilled his tax obligation, the GACH CEO replied: "I paid my taxes. As we started the mining operations, Corona came and we had some issues. But if you want to know whether I pay tax or not, you can contact Gambia Revenue Authority (GRA)."
Counsel Fatty then put it to CEO Jawara that mining operations have already begun before Corona hit.
"I got the licence in 2017 but I didn't start that year. If you want to know more, you can contact the Department of Geology. I couldn't remember the period of time between registration and commencement of mining operations," Dr. Jawara explained.
He said he had no black sand mine in Kitty when asked by counsel Fatty whether he was also mining in Kitty village in Kombo Central.
When further asked whether he'd ever encountered any problem with the community of Sanyang, Dr. Jawara replied: "I never had any problem with the people of Sanyang. It's only peace that exists between us."
"Did you spend D2.8m to rehabilitate Sanyang police station," counsel Fatty enquired.
"That was our corporate, social responsibility," GACH boss answered before adding: "We've reached a community impact agreement. They approached me for the rehabilitation of the station and I did it for them."
Dr. Jawara disagreed with counsel Fatty's assertion that the station was burnt down in protest against GACH's mining operations in Sanyang.
"I'm putting it to you that you offered this money to pacify the youths based on your operations," counsel Fatty stated.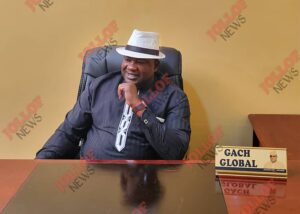 "That's incorrect. Factories were burnt in the protest but my black sand mining site was spared," the GACH boss said.
Dr. Jawara testified while being cross-examined that he never had any problem with the women vegetable growers in Sanyang.
"I am putting it to you that the locals, particularly the women, who grew vegetables in Sanyang, said their crops were suffering because of your activities," Sabally's lawyer stated.
"I never had any problem with anybody in Sanyang," Dr. Jawara explained. He then added: "Any time I want to expand my mining activities into anybody's land, I negotiate and pay compensation. The VDC and Alkalo are my witnesses."
And, when Sabally's attorney insisted on his position that black sand mining activities were causing food insecurity and environmental degradation and that the situation was so bad in the Jammeh era that mining activities had to be frozen, Dr. Jawara responded: "That's not correct. Since 1926, these sand mining operations had been taking place in the area. The one, who defamed my character, was part of those who lifted the ban."
"In fact, you are right. It (black sand mining) resumed under Jammeh," counsel Fatty agreed. He added: "But he (Jammeh) chose his cronies like Muhammed Bazzi."
The case resumes next Friday.