One thing that President Adama Barrow consistently exhibits is his inability to draw lessons from the past.
Should we continue to remind President Barrow of the impermanence of power?
Indeed, like everything else here, power doesn't last forever.
Apparently, President Barrow has squandered the opportunity of learning vital lessons from the Gambia's truth and reconciliation commission.
If he had learnt few or many lessons from the TRRC, he would not have failed in understanding the fact that his actions or inactions may be used against him in the future.
Yes, you can choose to be a vandal today but must be fully aware of the possibility of being treated as one when the time for accountability comes.
What happened at the KMC yesterday was quite unfortunate, uncouth, unfathomable and uncalled for.
How can serious government officials and security officers allow themselves to be part of the felonious act of the unauthorized breaking into a KMC office?
Government could not even advise itself against the reinstatement of the disgraced Sainabou Martin, forgetting so soon that it's the same government that said it was concerned about "mismanagement" of funds at councils.
Double standards, they call it!
Sainabou Martin should indeed keep away from KMC until such time that the allegations against her are either proven true or otherwise.
This is what is expected of her.
Mrs. Martin should not allow herself to be used as political football.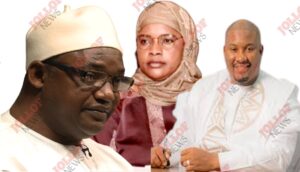 Consequently, the government of the Gambia should help in turning every stone to get to the root of this Sainabou Martin alleged fraud issue than trying to impose her on people, who do not want to work with her in the meantime.
Stop the vandalism or should we say, the gangsterism and allow common sense and love for country dictate your actions.
What is good for Jammeh is good for Barrow!
A word for the wise, they say, is sufficient.