Some chefs de Banjul-Serekunda garage this morning told JollofNews that their practice of extorting money from commercial vehicle drivers enjoys support from the Gambia Police Force (GPF).
They have been behaving aggressively towards commercial vehicle drivers, demanding tips and blockading vehicular traffic for non-compliance.
However, the chefs de garage claimed they enjoyed the backing of the police to "extort" money from commercial vehicle drivers.
Vehicular traffic on the road, leading to McCarthy Square, was this morning affected when chefs de garage mounted road blocks, trying to prevent a commercial vehicle from exiting the garage area.
They insisted money must be paid or the vehicle was not going to move.
When the matter was reported to the three traffic officers on duty, two said they were having their breakfast and the other officer, who went to the scene, later left the scene as the problem escalated.
The matter was subsequently reported to Police HQ but like on an April Fool's Day, officers kept on referring the informant from one unit to another until frustration crept in.
As all hope seemed to have evaporated for any police intervention, Commissioner of the Paramilitary,Pateh Jallow, entered the police HQ.
When the informant saw Commissioner Jallow, he ran to him and upon explaining the matter to him, Jallow swiftly told the officers at the desk to act fast.
But they didn't.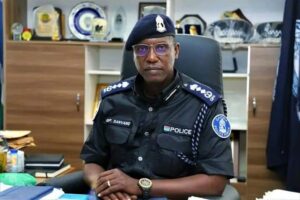 The lady at the desk at Banjul police station showed no keenness in entertaining the report and instead referred the informant to another unit.
When contacted for quotes, the police spokesperson Cadet ASP Binta Njie dismissed as false claims that the chefs de Banjul-Serekunda garage were enjoying any support from the police to extort money from commercial vehicle drivers.
She promised to take the matter up for clarification.