The Commissioner General of the Gambia Revenue Authority (GRA) has said taxes are the grease that oils government machinery.
CG Yankuba Darboe was speaking at the fifth edition of the GRA Taxpayers' Awards Night held at the prestigious Kairaba Beach Hotel last Saturday.
Below is the full text of his speech:
Your Excellencies, distinguished guests, ladies and gentlemen.
This annual tax payers' award now in its fifth edition is an initiative of the management of GRA to create a forum to recognize the most compliant tax payers in our economy as a reward to their unwavering commitment to fulfilling their tax obligation and civic duties. It is also meant to promote and foster a culture of voluntary compliance among tax payers. As we all know, The Gambia is a tax-based economy and as such, taxes are the lifeblood of our economy, providing the necessary funding for the public goods and services such as healthcare, education, infrastructure, national security and social programs that benefit everyone.
Taxes are critical pillars for development and growth of any nation and The Gambia is not an exception.
Therefore, it goes without saying that tax payers play a significant role in the functioning of our democracy and in the prosperity of our country. Taxes are the grease that oils the government machinery and without it, government can do little.
Your Excellencies, distinguished ladies and gentlemen.
As a revenue administration, our primary mandate is to collect all revenues due to government in a fair and transparent manner and to ensure that the government receives adequate revenue to fund its operations to enable it to provide the essential services to the Gambian people.GRA is, therefore, central in the government's domestic revenue mobilization drive. Before the end of every financial year, the government, through the ministry of finance and economic affairs, will task the authority with a revenue target modelled around the effective tax rate and the projected growth rate of a GDP for the coming year.
In the 2022 financial year, the authority was tasked by the government to collect the sum of D13.5 billion. However, due to the numerous economic challenges during the first and the second quarter of 2022, the revenue target was revised in the third quarter from D13.5 billion to D12.7 billion. Despite this revision of the revenue target, I wish to report that the year 2022 was a very challenging year for economy.
The economic outlook for 2022 was very promising with GDP projected to grow from 4.3 per cent in 2021 to 4.5 per cent in 2022. But the outbreak of the Ukraine war in February 2022 just two months into the year tainted any hope of recovery. The global economy witnessed an unprecedented rise in inflation with prices of essential goods and services, rising beyond the reach of many individuals and households.
This inflationary pressure was largely attributed to the war in Ukraine, the supply chain disruption, rising energy cost and the slow recovery from the Coronavirus pandemic.
In The Gambia, the government was forced to grant fuel subsidy in excess of D1.6 billion of what would have counted as part of GRA's collection to ease the burden of ordinary Gambians.
In addition to this, tax expenditure as at December 2022, amounted to D4.76 billion or 4 per cent of GDP with duty waivers constituting D2.89 billion and tax incentives granted through special investment certificate from GIEPA to D256.7 million. These various tax expenditures programs are pegged revenues to GDP at 11.1 per cent. Instead of the actual 15.2 per cent, which would have put The Gambia around the regional average.
Distinguished ladies and gentlemen.
Despite these challenges, it is my pleasure to report that in 2022 financial year, GRA collected the sum of D12.78 billion, exceeding the target by 0.3 per cent. This revenue performance represents a marginal growth of 0.3 per cent over the 2021 revenue performance. Perhaps, most of the positive events of the 2022 revenue performance was the fact that domestic revenue department accounted for 51.2 per cent of the total revenue collection. For the first time since establishment of GRA, this is indeed a great achievement in our domestic revenue mobilization drive.
This performance by the domestic tax department is evidence that the policies and strategies put in place by the government to expand the tax base and close loopholes is indeed bearing fruits.
Distinguished ladies and gentlemen.
With the volatile nature of international trade and its vulnerability to external shocks, the government has put in place the necessary policies and strategies to shift the focus towards domestic revenue mobilization. GRA remains committed towards this objective. We will continue to work towards delivering high quality services to citizenry and work closely with businesses and individuals to improve compliance and expand the tax base.
We will strive to modernize our tax administration system to make it easier for tax payers to comply.
To this end, last year we launched the much-talked about ASYCUDA World system; a web-based system for the collection of duties that has transformed the customs processes and procedures.
Equally, we are in the process of procuring a new state-of-the-art integrated tax administration system for domestic revenue collection that will have features such as electronic filing of tax returns, electronic payment of taxes with virtually little human intervention. This is our big dream, Your Excellency. And, we are working tirelessly to launch this system as soon as possible. This will complete the digitalization of our tax collection system, bringing it to the expected efficiency gains.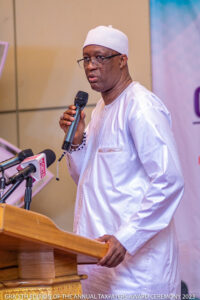 Your Excellency, distinguished ladies and gentlemen,
while the revenue performance will be largely attributed to the work and dedication of the staff of GRA, we however wish to recognize the role played by our various stakeholders in the regard.
I wish to express profound gratitude to our line ministry; the ministry of finance and economic affairs through the Honourable Minister of Finance, Mr. Seedy Keita, for the tremendous support we continue to receive from the ministry. The success that GRA continues to receive year after year is largely because of the cordial support, the relationship that exists between ministry and GRA. Your support has enabled us to make significant gains in mobilizations of government revenue. Thank you so much, the minister and his staff at ministry of finance.
On behalf of the board and management of GRA, I wish thank our various stakeholders and development partners such as the ministry of trade. We have a very good working relationship with ministry of trade.
Equally, GIEPA, we just signed an MoU two days ago. With GIEPA and GPA, we have a very good working relationship.
Equally PURA, where you have one of my brothers, Yusupha Jobe, doing a very, very wonderful job,
Your Excellency, through the GSMs. We are working with them closely. They are helping us a lot in terms of our collections from the GSM companies. Thank you very much, Mr. Yusupha Jobe. I don't know…I'm sure he is sitting somewhere. Thank you.
Our development partners-the IMF, the World Bank, the African Development Bank, EU, French Development Agency, UNDP, GIZ, WCO, Africa Tax Administration Forum and West Africa Tax Administration Forum (WATAF), the Chinese government and the security agencies for the tremendous support we received over the years.
And not forgetting NAWEC headed by Mr. Nani Juwara. Thank you so much for your collaboration. Thank you and thank you very much. Without these people, we would have find the work very difficult. It is through our partners, we are able to do what we are doing. So, we really have to thank them in front of His Excellency, the President, so he knows that these are the people we work with both the ministries and other institutions, SOEs and our development partners. Thank you, very much.
Your Excellency, distinguished guests, ladies and gentlemen, we are here tonight to honour those tax payers that have shown exemplary commitment to tax compliance. These tax payers have not only fulfilled their legal obligations but have gone above and beyond to ensure that they contribute their fair share of the tax burden.
Paying taxes is not always an easy task, Your Excellency. It is commendable that the tax payers that will be recognized and awarded tonight have embraced it as part of their corporate, social responsibility. By doing so, they have demonstrated their commitment to the welfare of our society and have set an example for others to follow. And we hope this will inspire a culture of voluntary compliance in our economy.
At this juncture, I would like to say something. I'm sure a lot of you have seen…looking at the high table…over there is our chairperson to the board. Next to her is the gentleman, wearing two caps. He is the minister of energy but today he is the minister of finance, representing the minister of finance. That's Mr. Jobe. Next to him is the President. You all know the President. I don't need to introduce him.That's my chair, empty there. But next to me is a gentleman. He is sitting there not because he is handsome but there is a very good reason why he is sitting there. Because last year if you remember, the highest tax payer, the largest tax payer of the country was Africell. And that is why we put him to sit in the same table with the President. So, he can eat with the President and discuss with the President. Now, we are doing this for a good reason so that all of you will have this opportunity to be the largest tax payer of the year. And then next time, you will sit with the President and eat with the President, discuss with the President. It's not easy to see the President. You know the President's schedule is very busy. So, this is a very good opportunity for all businessmen that are here… you can try and give us a very big cheque so that next year, you will sit with the President. So Africell MD, Hussein, thank you for doing a very good job. So, you make sure that if you want to maintain this position, you have to pay a lot of money (laughs). Thank you, thank you. We are grateful.
I would like seize this opportunity to congratulate all tax payers being recognized tonight for their outstanding compliance records. Your contribution to our society is invaluable and I urge you to continue your efforts in building a prosperous country for our citizenry.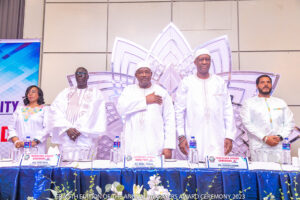 I would not do justice if I conclude my speech without thanking the media for their role in educating our tax payers. Your role in educating and empowering tax payers is essential in our tax payers' education and compliance program. We recognize and deeply appreciate the role you play in enlightening our esteemed tax payers on their civic duty.
As we say, revenue collection is everybody's business. It is a cooperative and collaborative effort with our stakeholders and the media is one such instrumental stakeholder. Thank you very much, the media. Thank you and thank you very much.
I also wish to thank the board, the management and staff of GRA for the support throughout this year. Our year on year success is a testimony to the tireless efforts of our staff, who have shown exceptional professionalism and expertise in their respective roles.
Our board members have also provided invaluable guidance, oversight and strategic direction. And, I would like to express my sincere gratitude to them for the leadership and support. Thank you very much, Madam Chair and thank you for the board members. We really appreciate the good work that you are doing. And, I'm sure the President recognized the good work that you are doing. If the head is not correct, the body will not be normal. So except the head is correct, the body can function properly. The board is doing a very good job, Your Excellency.
I also wish to express my profound gratitude and appreciation to the organizing committee for tremendous effort in putting together this wonderful event.
On behalf of the board and management GRA, I wish to thank the Chairwoman of the organizing committee for her exemplary leadership and guidance throughout the planning process and to rest of the committee members for their tireless effort in making this ceremony a reality.
As we move forward, there is no doubt, we will face new challenges but I am confident that we will continue to rise to the occasion and root on our success.
I am honoured to lead such a dedicated and talented team. And, I look forward to working with you all to achieve even greater height.
At this juncture, I would like, with the permission of the President, I always do. Your Excellency, if you permit me a minute, I would like to introduce heads of departments that are driving the reform and transformation at GRA.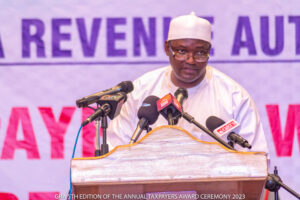 I consider myself very fortunate to have this team behind me, providing the support for the revenue performance that we have registered year in, year out. So with your permission, I would like to call the Deputy Commissioner General and Head of Domestic Taxes, Mr. Essa Jallow. Essa has been behind me, supporting me all the time. He is one person, who is very dedicated to his job and he's called Mr. VAT. He introduced the VAT in The Gambia. He was chairperson of introducing VAT in The Gambia. So Mr. Jallow, welcome. Thank you. I also want to call one of our old directors Mr. Alieu Bittaye, director enterprise risk management, reform and modernization and IT. Mr. Bittaye is one of the old directors in GRA. He has been in GRA since the beginning of GRA. And, he has crisscrossed a lot of departments. He was one-time head of finance and then later, head of HR and Admin. Now, we created a new department called Risk Enterprises Management Reform and Modernization. Very strong man behind me. Very, very strong. I want to also call John S. L Gomez-director internal audit. He is also one of the old directors. John is the director responsible for internal audit. And, John I always tell him that his staff should not stay in the office. The staff should always go out to our outstation.
One of the most difficult things in this world is the collection of money. If you are entrusted with collecting money, it is very, very difficult because everybody has a need for money. So, if somebody is responsible to collect that and bank it to Central Bank, it's a very difficult job. What makes our job easier is this man because he has been on top of our tax collectors, tax payers. Everyday his staff are checking to make sure that everything is normal. And I told him, put your house in order before somebody else comes in and tells you to put your house in order. At GRA level, we have internal audit. They are with us everyday. Whatever is collected, they are trying to audit it.
In addition to that we have national audit. National audit is also on us. Every minute, they are checking what we collect (laughs). On top of that you have external auditors.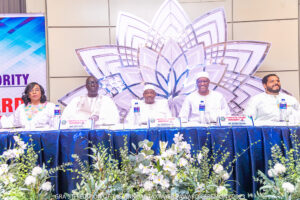 So Your Excellency, we have so many auditors following us but we accepted it. If you are doing your best, you don't have to be afraid of auditors. And for the interest of the public, I always say that auditors are good to come and audit institutions because where we have a situation, where there is no audit. Do you know what is going to happen? Everybody is going to do to do whatever you want and that will bring the collapse of the state.
So, it is good to have auditors to come and audit institution. Mr. John, thank you very much. At this point in time, also called Ernest Mendy, director of HR; one of our old directors. Director Ernest is the one, who employs everybody. Ernest is very steady, very sober, very calm gentleman and he is the one who employed all of us. He is in charge of HR and Admin. Thank you so much. Thank you so much for being with us.
At this point, I would also call a new entrant at the top management team. And that is no other person than Alagie K. Mbye. He has been appointed as the Commissioner of Customs, replacing a very excellent, hardworking chap, Ismaila Jallow, who retired few months ago and is replaced by Alagie. Alagie… very hardworking and he is a team worker. Above all, he is my personal friend. So, we go out together. We drink Attaya together. Not Essa but with him. I don't go out with Essa but I go out with Alagie. So, he's my personal friend. Yes Alagie, welcome to the top management. He had joined us just few weeks ago approved by the board of directors (his appointment).
Then next, I move to Yaya Manneh. Yaya Manneh is the director responsible for technical services. Yaya is a young man, who is very good in figures. He is my statistician. I travel with him everywhere I go. I don't need to carry a computer anymore because whatever figure I want, the gentleman will have it. Just tell me…let H. E ask me something to do…the next minute I will say Yaya can I have this thing…the President wants me to have some figures for him. So, the next minute I put it in an envelope and send it to State House. So, this gentleman is a computer behind me. When I go to America, I travel with him. I go to UK, I travel with him. Anywhere I go, I travel with him. So these are young people, who are really dedicated and they are really supportive of my management. And, last but not the least. Let me have…Ah, yes… he's reminding me of one of the most important persons in GRA and that's director of finance and accounting Alhagie Saikou Denton (laughs). How can I forget the man, who keeps all the money, the man, who keeps all our books, the man, who makes us very proud at the level of World Customs Organization! He is the one in charge of the accounts of the World Customs Organization and he does their work…he is also the one responsible for the West and Central Africa Customs Administration, which is composed of 23 countries. He manages their account. By the way, it's not surprising. His father was the former accountant general Abou Denton. I'm sure Mr. Jeffrey will know him and many people in this hall, including the President. You know his father. So, he has just copied from his father. How can I forget you! He is the man, who is responsible for all the monies that we have either in the form of subvention or in the form of collection. He is the one, who takes care of everything. Of course, subject to audit on a daily basis. So, thank you very much Denton for having you. And, yes…Essa is constantly reminding me as if I don't have the paper (laughs). You see how good it is…GRA we work…and this is Abdou Rahman Bah. He works at the Legal and Ports Services. Mr. Rahman is a young man; very dedicated, very hardworking and he is part of my speech writers,Your Excellency. Whenever I go to occasions…in most cases I don't want to read from the paper upfront but they force me to do because it's a protocol I have to follow. But whatever I write, it's Abdou Rahman and team. They write it and bring it for whatever my input. So, he is a very excellent person. And, he helps us with our legal matters.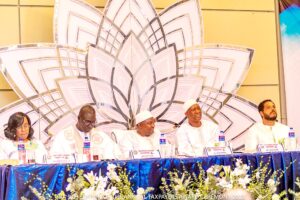 Your Excellency, before I talked about these people, I'm sure…I can sense that some of you are already putting on gender lenses. I remember last year, His Excellency mentioned something due to the fact that there was no female among the top management. They are all men. Look at them (chuckles). Top management. But don't forget that the overall boss at GRA is sitting over there next to the minister. She is a female. Is the chairperson of the board of directors. She controls everything. She dictates everything. What we do…she is the one, who tells us what we supposed to do. That's the board chair Lucy Faye Jagne. She is the board chair and she has been the leading advocate for women within the authority.
Your Excellency in 2021, she spearheaded the introduction of the authority's first gender and diversity policy. And, this has resulted in the elevation of five female staff to the position of deputy director. Is that not good? Five of our female staff are deputy directors. In addition to that we've also promoted 14 female staff as managers. So, they are coming. The female are coming. It's just a matter of time but they will come over. It's just a matter of time before we have the first female in the top management. I think this year the President will not point finger on us. We have five deputy directors and 14 female managers.
Your Excellency, I have the top management behind me. The success of GRA lies on these people. And I have my colleagues directors general here. The secret we have at GRA is: we are together and the together you are, the stronger you are. I lead the team but I do a lot of delegation. One of my successes is delegating responsibility. Each of these people I have read to you the various departments they head. We have eight departments. They are all heads of departments. They work under me. I delegate them. I supervise them. And, they do their work diligently. And because of that… that's why we are here today. That is why we have year in, year out the success story of GRA.
So Your Excellency, these are the gentlemen behind me. I want you to see them and know that I am not alone. I am proud and honoured to have such an excellent team behind me.
And thank you very much, gentlemen. I want to thank you and thank you very much. You can have your seats again. Thank you, thank you. Thank you, so much. Thank you.
Your Excellency, I am sure I have been in the stage for a while. I want to conclude my speech so that I can give the podium to somebody else.
In conclusion, I welcome you all once again and I hope this event will inspire other tax payers to become more compliant with their tax obligation.
And, we are honoured to have the President of the Republic to personally hand over the awards to the various recipients.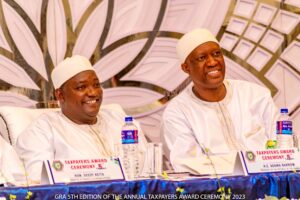 I wish you all a wonderful evening but before I leave, my committee asked me from there to there…these are all prizes and they said this is a lot. They said you think the President will be able to hand over all this. My reply to them, without even thinking, I said yes. The President is a young man. He trains almost every day. He is strong enough to stand for more than two hours. So don't worry. As long as you have the prize, they will give the prizes. You don't have to worry about that. He trains, which I know that he trains every evening. The President will be more than willing to hand over the prizes to winners. No worries at all.
On that note, I thank you all distinguished ladies and gentlemen for your kind attention. And, I thank you, thank you once again.
For more, please go to our business column.
Also read: