The Gambia government appears overwhelmed by the sheer magnitude of OIC roads construction works in parts of the Kanifing Municipality as armies of workers and heavy machinery had since left the roads.
When government embarked upon the ambitious OIC roads project sometime last year, many thought it was punching above its weight.
And, as if to give credence to this pessimism, government has not been making any spectacular progress in parts of the Kanifing Municipality of-late as far as roads works are concerned.
"Government is trying to bite more than what it can chew," a taxi driver commented in a conversation with JollofNews.
"I hope they (government officials) did not share the money for the roads because nothing is now moving in my area," Kanifing South resident Musa Jobe said when approached for comment on the road works in his area.
Meanwhile roads under construction in parts of KM continue to impede vehicular traffic.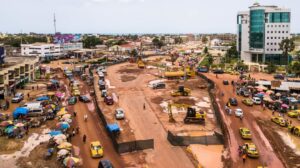 This virtual de-linking of several areas of the municipality has been fuelling resentment and frustrations.
OIC officials were unavailable for comments at the time of this post.