The conviction of former permanent secretary at the ministry of fisheries of corruption is seen in President Adama Barrow's circle as a political coup de grace but we here at JollofNews are of a diverging view.
It's no secret that suspicion of the Barrow administration, committing economic sins against Gambians is sadly entrenched.
And rightly or wrongly, this tenacious holding onto the view of pervasive corruption could not still be loosened as revelations of grand official corruption has now become the order of the day.
The plethora of audit reports about economic crimes against the citizens clearly points to a scramble over the national treasury.
The reports have undeniably provided much enlightenment to Gambians as to how hands were dipped into their coffers on a scale they've never witnessed before.
Official corruption is said to have caused haemorrhage of millions of public funds into private safes and bank accounts.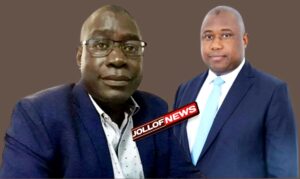 But the most depressing thing about it all is that while all this hullabaloo about official graft rages, President Barrow appears to be thick-skinned and emasculated.
So, will Bamba Banja's conviction and sentencing herald an era of more combats against the pillaging of the coffers?