Gambia's Youths and Sports minister Bakary Y. Badjie, who has decided to throw his hat into the ring of vying for the mayoral seat of Kanifing Municipality, has asserted that he is an independent-minded person who could not be forced to do things against his will.
Minister Badjie is vying for the KM mayoral seat under the ticket of the ruling National People's Party (NPP) of President Adama Barrow, who wants to sweep all the councillor and mayoral seats, among others, in the forthcoming local government elections slated for April and May this year.
The minister's assertion or statement was constrained by rumours that he was conditioned or rather forced to leave the ministerial position to contest the KM mayoral seat, which President Barrow and his NPP are badly in need of as they aspire to unseat Mayor Bensouda of the United Democratic Party (UDP), current holder of the seat.
Mr Badjie said he was not forced by the president or anybody to vie for the seat, adding that it was a very "personal decision" that he made after consultation and agreement.
"I have heard about that. In fact, people have reached out to me telling me: 'Don't accept this. They are trying to force you.' Nobody forced me," he clears the air. "I wrote my application and dropped it at the bureau; nobody forced me. Maybe some people don't know but I am an independently-minded person."
He says further: "I could choose to say no if I was forced, and then the President could decide. But as far as I know, I have a very good relationship with the President. There is nothing that has happened between us that would make him or anybody try to force me to apply for something."
Minister Badjie said the decision he took was discussed and agreed upon.
"But to even prove it further, I am still the minister," he affirms. "If I was forced or, as people believe, doing this not out of my will, the President would have taken his position.
He said the president could appoint other people stronger than he is, but he has chosen to maintain him in his service to the nation.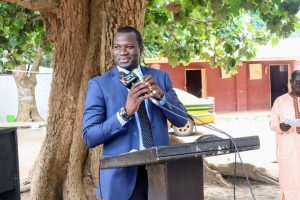 The sports minister adds that President Barrow is vested with the ultimate responsibility of appointing and relieving anyone of his or her position.
"But I am still the minister; I have not relinquished the position and nobody is forcing me. So, that should convince everybody that it is a matter of choice and I am going in for it, and if I win I will surrender the ministerial position. Simple as that," he concluded.
Minister Badjie made these assertions at a meeting in Koloi, where the Elite Strategic Team and a coalition of other groups and politicians officially endorsed him as their candidate for the KM mayoral position in the upcoming local government elections.