National People's Party candidate for West Coast Chairmanship, Seedy Ceesay, has said during his endorsement by the Gambia Amputees Association that The Gambia cannot achieve its development goals without social inclusion and the provision of equal opportunities for all.
Extending thanks and appreciation to the association, Mr Ceesay said: "Thank you for your endorsement of my candidacy to become the next chairman of BAC. I cannot thank you enough for the honour and privilege of your endorsement. I shall vindicate the confidence you have in me with a performance in office that you will be proud of.
"I decided to throw my hat into the ring to become the next Chairman of BAC because I wish to join those in public office who want to drive the rhetoric of new Gambia to its reality, its fulfillment, a Gambia of economic development, political freedom and stability, but realizing that without social inclusion, providing equal opportunities for everyone, the country will not achieve its national goals."
Ceesay added that he was asked by some people why he left his journalism career to join politics, which is believed to be a mere dirty game, wherein politicians are in it simply for themselves.
"My answer is this, and very simple: if you think that the way we do politics is wrong, surely, the way to deal with it is to change it, not to abandon it, because we cannot do without politics. It is simply our process of collective decision-making," he said, adding that the question is how to change it.
"Instead of standing on the outside, pointing fingers and shouting from the rooftops the inadequacies of those in public office, I decided to go into the kitchen, so to speak, never mind the heat, because that's where the cooking is done."
The NPP BAC strongman added: "That's one way of bringing about the change we want. If good and conscientious people do not go into politics, then the unsuitable variety would, and the dream of Independence would be in perpetual postponement. I, therefore, appeal to your best hopes, not your fears or doubts about politics.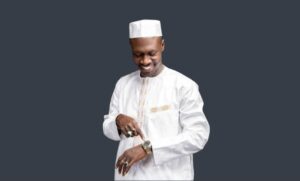 "I am profoundly proud of your endorsement of my candidacy, because your cause, for inclusion, dignity and respect, is at the heart of my political commitments. The government of Adama Barrow has set us on the right track to mainstreaming the interests of disadvantaged groups.
"After almost a decade of tireless advocacy for the passing of the Persons with Disabilities Bill, which many rights advocates had regarded as a key step towards greater inclusion in our society, President Barrow, on 4th August 2021, assented to the bill, making it law
"The various social inclusion policies adopted by the government also point in the direction of a government committed to social equity."
Ceesay contends that the challenge, however, doesn't end at enacting the bill to become a law. "Our task now is to translate legislation and policy into reality, to be true to what we have said on paper," he affirms.