Gambia Revenue Authority has donated food items to SOS Children's Village at Bakoteh as part of its aim of giving back to the community.
The items donated in the spirit of this month of Ramadan included 15 bags of rice, 5 bags of sugar and 5 gallons of 20 litres of oil.
Speaking on behalf of the Commissioner General, GRA's Corporate and Public Affairs Unit head Ousman Bah emphasised the importance of giving back to the society and urged other people and institutions to emulate the kind gesture.
"We are not here for collecting revenue," he said. "Rather, we are here to distribute food items to a very important sector of our society, which is the less privileged children at the SOS Children's Village."
Emphasising that the children are the future of the country, Mr Bah said: "We invest in our children to make them grow to become better human beings and become more responsible so that tomorrow, when they become responsible, they also become taxpayers."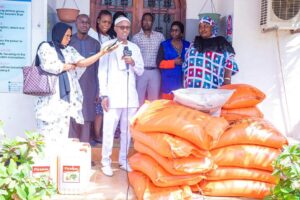 Furthermore, Bah said, GRA gives corporate social responsibility a pride of place in its socio-economic service, hence it does a lot of donation, mostly in private.
However, he said, "this particular donation was held publicly to serve as encouragement" for others to do the same by coming to the aid of SOS Children's Village, which needs everyone's help and attention.
SOS Alternative Care Coordinator Haddy Njie Touray appreciated and thanked GRA for the gesture, saying: "We appreciate and acknowledge the gesture, and we are calling on other sectors, departments and individuals to emulate the good deed of GRA. We need support as caring for these children is a big challenge."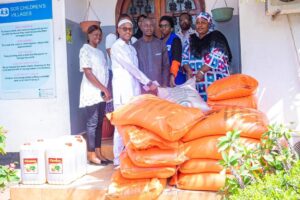 Madam Touray expatiated: "We take care of vulnerable children, and we have been here for 40 years, taking care of children that have lost parental care. There are lots of children that have passed through this system who are now adults living in the communities and serving their motherland. Therefore, supporting these children is a step in the right direction that is long overdue."