As a concerned and patriotic citizen, I wish to send in few concerns to the president of the republic of The Gambia, H.E president Adama Barrow. I will limit myself to only 2 things which is the plight of victims and also the issue of those appointed by the president.
Mr president, you will agree with me that, Gambians have gone through a lot in the past regime of Yahya Jammeh. He ruled this country with absolute power and left this country with memories that will forever remain in the minds of a good number of citizens. Up to today, victims cannot reconcile with what had befallen them. I want to remind you of even your comrades who were killed, tortured and even jailed in pursuit of a better Gambia. The likes of Solo Sandeng, Solo Nkrumah, Lang Marong and many others. I want to appeal to you not to let their sacrifices go in vain. Mr president kindly treat the issue of victims with urgency because they've been waiting far too long.
Mr president, On the issue of your appointments, I will first put to you my disappointments and send your a reminder of the 2016 political impasse. Gambians stood their ground by making sure that that victory stands by all means. Some vulnerable ones fled the country for safety who had equally endured a lot along the way. Sad to tell you that, the very people who pioneered the whole idea of denying you and majority of Gambians that victory are the ones you appointmented and empowered in this NPP government.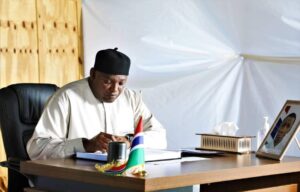 Mr president, this issue had made victims and many other Gambians lost hope in your administration. I will like to advice you not to let those people who voted for you to turn their backs at you. Having raised the above concerns doesn't mean am not NPP, let me make it categorically clear that am NPP today than ever before.
Long live the Gambia