Senegal has reported an outbreak of the highly pathogenic H5N1 bird flu on a poultry farm in the northwestern part of the country, the government of the West African state and the World Organisation for Animal Health (WOAH) said on Friday.
The outbreak occurred on March 18 on a farm in the village of Potou near the town of Louga, not far from the Langue de Barbarie National Park where an H5N1 outbreak had been found, the Paris-based WOAH said, citing Senegalese authorities.
"It is highly likely that there is an epidemiological link between both outbreaks," it said.
Senegal's livestock ministry said on Friday the highly pathogenic Type A H5N1 bird flu was first detected on March 8 from samples taken from migratory royal and sandwich tern birds around the Pink Lake, and Yoff Island near the capital Dakar.
On March 10, the same disease was confirmed in samples taken from the breeding island of the Langue de Barbarie National Park, in terns, seagulls and great cormorants, it said.
"The appearance of the disease coincides with the great transatlantic migration of water birds, some of which stay in the wetlands in the north of the country from November to March. Thus, it is highly likely that the virus is introduced by migrating birds," the ministry added in its statement.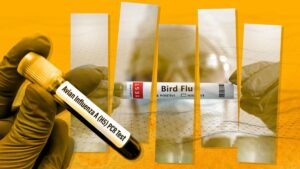 The outbreak killed 500 birds at the farm in Potou. The remaining animals in the 11,400-strong flock were culled, the WOAH said.
Senegalese authorities said in the statement that 1,229 bird deaths were recorded at the Langue de Barbarie Park and surroundings, to date. At the Pink Lake, and Yoff Island, 323 and 213 bird deaths were recorded, it added.
Avian influenza, commonly called bird flu, has been spreading around the world in the past year, killing more than 200 million birds, sending egg prices rocketing and raising concern among governments about human transmission.
(Reuters)