Ten of the most brilliant students of the University of The Gambia (UTG)'s class of 2023 have been given postgraduate scholarships by the Ministry of Higher Education, Research, Science and Technology (MoHERST).
The scholarship awardees will be studying in countries abroad that have bilateral ties with The Gambia.
Speaking at the award ceremony held at the complex of MoHERST along the Bertil Herding Highway in Bijilo at the weekend, higher education minister Pierre Gomez said the award is meant to recognize excellence in higher education.
"The Ministry intends to build the human capital stock of the country through increased access to tertiary and higher education," Minister Gomez said, adding: "Special prominence will be given to increase female participation in education."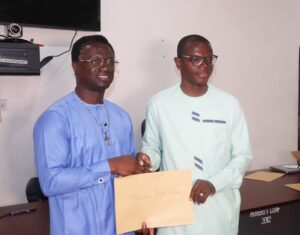 Moreover, he said, MoHERST is working towards producing the first home-grown engineers in its bid to boost employability and improving economic growth and development in The Gambia.
Delivering the vote of tanks on behalf of the awardees, valedictorian Ya Adam Njie said: "It means so much to us. Having the chance to pursue our education without the stress of finance is such a great honour, and we are very thankful."