Deputy Superintendent of the Gambia Police Force, Lamin Cham, has been sacked for gross misconduct after having been accused of assisting socialite Khadijah Kebbeh to abscond Gambian jurisdiction, following her indictment by the state for alleged fraud, an impeccable source told JollofNews.
The source said the top Gambian cop did so by handing over a confiscated passport to Khadijah, who allegedly defrauded business tycoon Dr Abubakary Jawara's GACH Global Trading Company more than 60 million dalasis. The passport, owned by Khadijah, was under police watch.
However, when contacted for comments by JollofNews, Superintendent Cham dismissed as false the allegations that he was sacked for misconduct.
He also refutes claims that he handed Khadija her passport to enable her escape. "It is all false," he said.
Meanwhile, the state continues to search for fugitive Khadijah to ascertain her whereabouts to answer to criminal charges before the High Court of The Gambia in Banjul.
Ms Kebbeh was slammed with four charges by the state that include three counts of stealing and one count of money laundering, and she was on police bail at the time of indictment.
Prosecutors alleged that Khadijah Kebbeh between 2021 and 2022 at Kanifing Municipality and diverse places in The Gambia, for purposes of disguising or concealing the illicit money, converted and/or transferred into bank accounts they money knowing that such monies are proceeds of unlawful activity.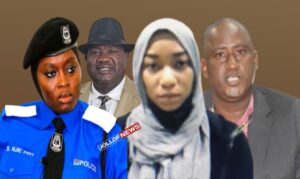 However, following futile attempts to locate her, state counsels from the Ministry of Justice informed the High Court recently that they were not aware of her whereabouts.
Equally, Khadijah is yet to be located by the state.
Meanwhile, with Mr Cham having dismissed the allegations of giving Khadijah Kebbeh her passport, a police source has told this medium that the socialite's documents were with one Buba Sarr (CMC).
The police mouthpiece Cadet ASP Binta Njie has yet to respond to our requests for clarification after several attempts.