African giants Senegal have moved from 19 position to the 18th spot behind Morocco (11th) while The Gambia rank 120th in the latest FIFA Men's World Ranking released at the weekend.
The ranking system by football's world governing body FIFA is done for men's national teams in football, based on teams' game results with the most successful team being ranked highest.
Historically, the rankings were introduced in December 1992, and eight teams -Argentina, Belgium, Brazil, France, Germany, Italy, the Netherlands and Spain – have held the top position since.
Brazil hold the record for the longest ranked first.
Senegal registered giant strides in international football by lifting their first Africa Cup of Nations (AFCON) in Cameroon, in a final played against Egypt, the most decorated country in African football history.
Gambia's improvement – moving from the 126th position to the 120th in the ranking – also stemmed from the history they made at the TotalEnergies AFCON played last year in Cameroon.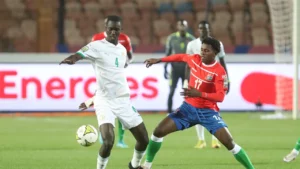 Playing in the tourney for the first time in its history, The Gambia's Scorpions strived to reach the quarter-final, hence their improvement in this year's ranking by the football governing body.
Moreover, Morocco also improved considerably as they bagged a spot in the top 15. They occupy the 11th spot, which could, no doubt, be attributed to their impressive performance at the 2022 World Cup played in Qatar.
The next FIFA/Coca-Cola World Ranking will be published on 20 July.