The Q-Group Foundation has distributed a whopping D375,000 among winners in the various categories of the 3rd National Quranic Competition (NQC).
The final of the grand religious event, held at QCity on Monday, was attended by religious leaders, reciters, Quranic students, imams, and scholars from the length and breadth of The Gambia.
The competition is now held yearly during the special month of Ramadan, the month in which the Prophet Muhammad (S.A.W) first received revelation from Allah in 610 AD at the Cave of Hira during one of his isolated retreats, in the spirit of promoting Islamic knowledge-seeking and Quranic memorisation, and to equally ensure the strengthening and enhancement of the propagation of Islam in The Gambia.
The grand contest rallied young reciters from Islamic schools and centres of Quranic memorisation around The Gambia to contest in various categories of the competition.
For the quarter of the Quran category, Hassim Kandeh of Darul Arqam at Sinchu Alagie emerged the runner-up, while one Matilda Minteh of Alieu ibn Abi Talib School in Sinchu Alagie emerged winner, and they were each given 25,000 and 50,000 dalasis respectively.
One Muhammed Sannu Jallow of Madrasaatou Darul Quran in Banjul emerged runner-up in the half of the Quran category, while Talib Habib Bah of Nourul Hadda of Kerr Alagie Malick in North Bank Region (NBR) was declared winner. Each was handed a cheque for D50,000 and D75,000 respectively.
For the grandest of all categories, Kamilul Quranul Karim (the full Quran), however, the imminent scholar and imam Ousman Jah, host of the event, stated that the top two contenders went head to head as they each scored the same points.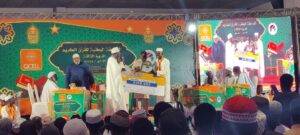 He added that due to time constraints, which would not afford them the opportunity to go through another challenge to choose a winner, a raffle was held.
"The one whose name first came out was chosen as the runner-up," the celebrated Islamic scholar said.
Consequently, Abdul Hamid Jallow of Madrassatul Darul Quran Wa Sunnah in Busumbala was declared runner-up and Malick Drammeh of Madrassatul Takfisul Quranul Karim of Ebo Town was declared winner.
Abdul Hamid Jallow was handed a D75,000 cheque, while the grand victor, Malick Drammeh, was presented with a cheque for D100,000.
The rest of the students and reciters who participated but did not make it far were each handed D2,000 with transport fund to enable them comfortably return to their various destinations.