The Gambia's leading opposition United Democratic Party (UDP) has yet again shaken the nation as it pulls large crowds from every corner of the country to IEC regional bureaux for the nomination of its various candidates for mayoral and chairmanship elections of May 20.
People – young men and women and the old – could be seen everywhere as they accompanied their candidates to go and tender their nomination papers to the IEC regional returning officers. Fleets of cars and other vehicles filled with supporters rallied on the highway, with over 40 'Gele Gele' buses and many 'Taxi Bagass' and private cars from just New Jeshwang and Ebo town.
The whole country, from the Greater Banjul Area to the Upper River and from the rural to the urban areas, is being masked with yellow colour – the party's symbol.
Mayor Talib Ahmed Bensouda and Rohey Malick Lowe, both ruling incumbents of the Kanifing Municipality and Banjul City Council respectively, are seeking re-election.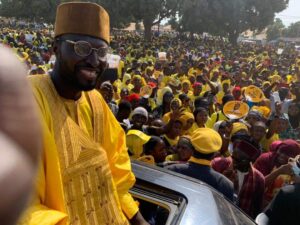 Both incumbent mayors first visited their parents before heading to tender their nomination papers at the IEC offices. Both MC Cham and Nene Freda Gomez, popular politicians from different opposition parties, among others, have all publicly manifested their support for Mayor Talib Ahmed Bensouda.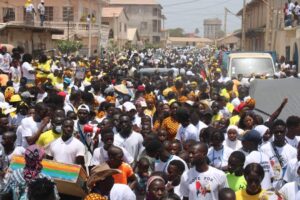 Yankuba Darboe, a prominent lawyer who is also seeking to take over the chairmanship of the Brikama Area Council under the banner of the main opposition, has also tendered his documents to the IEC Brikama regional office.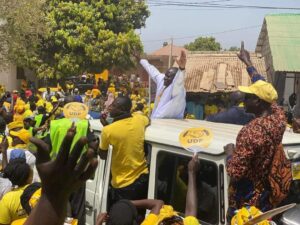 The incumbent chairman of Kerewan Area Council, Malamin Bojang, was also nominated at the IEC office in Badibou Kerewan today in his bid to get re-elected.