The Mayor of Banjul, Rohey Malick Lowe, Monday lambasted and blasted her critics for sabotaging her work and overshadowing the development she has brought to the capital city of The Gambia.
The country's only female mayor hit back at his critics while facing journalists, after submitting her required nomination documents to the electoral authorities at Banjul, to present a discourse aimed at her supporters.
She was accompanied to the IEC Banjul regional office by a large crowd of supporters, well-wishers and members of her party, the United Democratic Party, all dressed in yellow, which is the party's symbol.
Concerning her critics, Lowe started by asking: "So what they are making noise about and all that they are promising Banjul, is it today that they can come out and speak about it?
"Let us just say the truth for God's sake. I heard that they are coming out promising to give money to the people of Banjul and scholarships, but where were they 5 years ago?
"I went for election, and when I won, I wrote to all those who lost and invited them. I told them, 'Come let us strive together and work'."
The mayor said none except two people – Alagie Jah and Pa Njie – came to join her in her effort to bring development to the doorstep of Banjulians.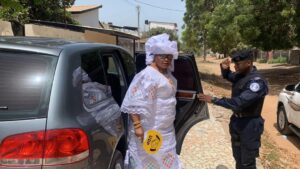 "They alone responded and came to work with me. But the rest sat down. What they wanted is to be Mayor by force, but that is left with the people of Banjul," she remarked.
"We have brought you the EU project. But they said I ate the money from the EU project. EU never gave us 180 million euros. EU gave us 3.2 million euros."
Mayor Lowe attributed EU's intervention into The Gambia's local government matters to her idealistic leadership, saying: "I am so proud to say EU never gave the local government money. This is the first time EU came to the local government, because I was made to understand that it is at the local level where the impact is. They gave us 3.2 million euros, which was at that time 180 million dalasis."
In a sarcastic tone, she thus said: "But because they don't understand issues, they think that the money was filled in a bag and brought to my office and told, 'take it'. It doesn't work that way."