Yankuba Darboe, vying for the Brikama Area Council on the ticket of the Gambia's main opposition United Democratic Party, has said the whole world understands and appreciates the fact that Adama Barrow's government "is absolutely corrupt".
The prominent counsel-cum-politician made the above statement today when he faced journalists after his engagement with IEC officials for his nomination.
The young politician put emphasis on the crucial need for transparency at the local government level.
"It is important the council is transparent," Darboe said. "For many years this council existed, one of the things everyone has encountered or experienced is lack of transparency, that if you walk on the streets and ask people about their council, as to what is the total revenue of the council for last year, nobody will be able to tell. That is because the council is not transparent enough."
The lawyer and politician moved on to justify that no society can be developed when people do not know how much the society, or the council in such instance, earns.
"We have got to be transparent and accountable to the people; we have got to make sure that we open ourselves to the people so that they know exactly what is happening at their council. At the end of the day, we are only representatives; we are going to be representatives of the people. It is not our homes, [and] it is not our properties that we can claim personally or any entitlement over.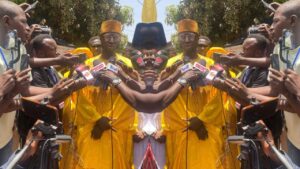 "They belong to the people. We are their trustees. We are meant to tell them. If we cannot tell them what is happening with their own resources, can you imagine what we are telling ourselves: we are telling ourselves that we own or we have the ownership over those properties or revenues, when it is not ours."
Mr Darboe reiterated transparency as his number one, especially "at this current time when we are led by a government that is so corrupt, that the whole world understands and appreciates that we have a government that is corrupt."
Concluding he said: "We are going to be the beacon of light in this dark cloud that is overshadowing our nation, and that is what we stand for."