In a fundraising friendly match played today at the Box Bar Mini-Stadium in Brikama, the Gambia U-20 have once again defeated the U-23 team in a tough struggle.
The friendly showpiece was held by the Gambia Football Federation in partnership with the Scorpions Fans Club to raise funds to cover the finances of the latter's trip to the U-20 FIFA World Cup to kick off in Argentina, South America, late this month. As such, tickets were sold at entrance, with normal tickets pulling D20 while VIP attracted D100.
The match kicked off at 4 pm, ending with a big win for the U-20, who defeated their elders 2 goals to 1.
Although the U-23's Alasana Yirajang first got the ball at the back of the net 26 minutes into the game, the U-20 wasted no time to turn the tide, as Muhammed Sawaneh gave the U-20 the equaliser in the 28th minute before the end of the first half.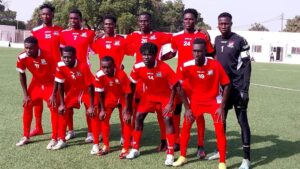 However, just ten minutes to the end of the match, as it was drawing closer to a stalemate, Mansour Mbye handed the youngsters a brilliant winner over their elders.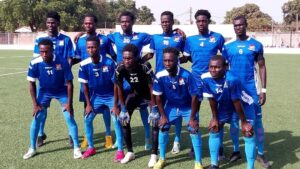 The match, which came on the heels of a recent friendly between the two teams on Friday, held at the Late Ousman Saho Field in Old Yundum, where the U-20 thrashed their elders 3-1.