A witness on Tuesday recounted how the ring leader of the alleged coup plot, Sanna Fadera, was arrested by state agents.
The witness's identity was concealed as he stepped into the court in a mask and testified behind curtains around the witness box.
Following his testimony that he and Major Alhagie Njie met one Captain Momar Jobe (3rd prosecution witness) at his house, the witness added: "Then Major Alhagie Njie told Momar Jobe to reveal the information he had. So Momar said sometime in November, Sanna met him at his home in Farato and told him that he is planning a coup d'état."
Defence Counsel Camara objected that "the statement is inadmissible" because the witness was relaying what the 1st accused allegedly told Momar Jobe. "My lord this evidence is hearsay under section 19 of the Evidence Act, and it constitutes second-hand hearsay," he said.
The trial counsel cited subsection B of section 19 of the Evidence Act, which states it is not hearsay when it is intended to establish by the evidence not the truth of the statement but the fact that it was made.
He however argued, saying: "My lord, this evidence is for the truthfulness of the statement in regard to the charges. In these circumstances, we respectfully urge this court to uphold the objection, because this witness is not in a position to tell us what the 1st accused allegedly told Captain Momar Jobe."
He thus urged the court to expunge it from the records and disallowed what the witness had stated before the court.
In a counter, State Counsel L. Jarjue said the statement of the accused was not hearsay, adding that the accused person should have their reaction to the statement.
He also stated that the statement was made by PW3 (Momar Jobe) and that it fell under subsection B of section 19.
He also said the council could not determine whether the statement was to establish the fact that it was made or to prove the truth of the statement, adding that it was relevant under section 3.
Following a tough argument by the parties in the trial, the judge ruled that part of the testimony of the witness could not be admitted.
"What happened after," State Counsel L. Jarjue asked.
The witness then told the court they eventually unanimously agreed that Captain Momar should call Sanna and put the phone on loudspeaker.
He said Major Alhagie Njie, Major Lamin Njie and Captain Momar Jobe and himself were all presented, noting that during the call, Captain Momar told Sanna that he had not been at peace since he was told about the coup.
"Sanna told him on phone, 'Do not worry', he said, adding that Sanna told him (Captain Momar Jobe) that the logistics were in place, that they had obtained support from the United States of America and all that was left was charity. "He said on the phone, 'We would be traveling to Mali'. That was on a Sunday I think," the witness explained.
"Then I used my phone to tell Captain Momar Njie to ask him (Sanna) what types of weapons they had. At the same time, Major Lamin Njie whispered to ask him about the people involved in the coup, but Sanna resisted to reveal the weapons to be used. Then Major Njie told him that he was not comfortable being in this alone. Then Sanna told him, 'Do you know one Captain Ebrima Baldeh at the military intelligence?' Momar acknowledged. Then Sana told him, 'he is the one in charge of our information and documents'.
"When Momar Jobe wanted to go further to ask further questions, then Sanna told him that this was a telephone conversation and that he would get back to him on Sunday. We further agreed that we should monitor Sanna's activities in order to gather further evidence, and I was tasked to monitor him to know the people behind him. Then Captain Momar Jobe was tasked to put him on record if he would come on Sunday. I did the monitoring but realised that he did not go to Mali as he claimed. He was in the country. But Momar Jobe was reporting to us day and night. He called me and called Lamin Njie."
The witness told the court that it was then that Momar told them that if Sanna did anything, then they should be held responsible since they were still leaving him.
The witness recounted that on 15 December, they met at the Defence Headquarters to meet the deputy CDS because they were made to understand that the CDS was not within jurisdiction. However, he said, they later also came to know that the deputy CDS had travelled to Guinea.
He added that they later decided to report the matter to the Director of Military Intelligence Lamin Camara, adding they all unanimously agreed that they should continue monitoring Sana because the issue was still premature.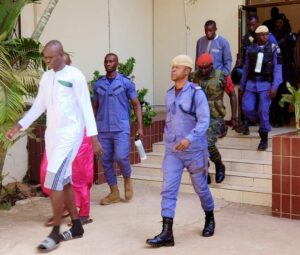 "Then Captain Momar Jobe was tasked to record Sanna if he would go to his house on Sunday. On 18 December 2022, both Major Lamin Njie and acting director of Military Intelligence Major Lamin Camara asked me whether Sanna was around," the witness said. "I told them he was and asked them to wait for me to call Momar to ask him about Sanna. Momar said Sanna didn't come. On the 19th of December, we met CDS Drammeh who had come from Turkey. When we told the general what happened, he directed us to keep following Sanna to gather evidence.
"The following day, 20th December 2022, I was called by Major Lamin Njie and Major Lamin Tamba (military intelligence). They told me they were instructed to arrest Sanna, and I was asked to join the arresting team led by one Major Pamoro Sanneh. The same time, I was tasked to trace Sanna. That was the time I called Sanna. I told him: 'I had very important information to discuss with you but I am on my way to Basse.' Then he told me he was at the Gambia College.
"Then the arresting team stayed behind. When I arrived at the Gambia College, I saw him sitting at the gate. I alerted him to meet me at my location. While we were exchanging pleasantries, the arresting team came to arrest him.
"Then I was tasked to go to search Sana's farm and house. We went there and searched but nothing was found. Sanna told me: 'Now, I know why you are searching my house. You think I keep weapons here'. He said that even if he did, we would work on them but would not see them.
"We returned to Yundum Barracks that night at the military police post. We offered him to the Officer Commanding Major Pamoro Sanneh. Pamoro, him (Sanna) and I were there. We told him that we were disappointed that it was not any other but him. We asked him what motivated him to be doing such a thing. He said things were not going as they were supposed to.
"He said all other individuals arrested should be released because he was the only one responsible."
The witness is due for cross-examination by Defence Counsel L.S. Camara on Tuesday.