The Minister of Higher Education, Research Science and Technology, Prof. Pierre Gomez, has lauded the role of academic in improving cooperation between underdeveloped countries.
"Academic can be that bridge of South-South cooperation," Professor Gomez said in an opening statement delivered Thursday at a three-day International Conference on Computer Science and its Applications, which is being held at the Kololi-based Sir Dawda Kairaba Jawara International Conference Center.
Jointly organized by the University of The Gambia (UTG) and the Senegalese Association of Computer Science Researchers (Association Sénégalaise des Chercheurs en Informatique, ASCII), the scientific event brought together academics and students from Gambia, Senegal and various parts of Africa.
He then highlighted the number of lecturers from different universities in Senegal that are taking part in CNRIA 2023, while indicating that Gambia is already making giant strides in mathematics and other related fields.
More importantly, he went on, the current leadership of the School of ITC (UTG) is a by-product of the program linking UTG and Université Gaston Berger, Saint Louis, Senegal, describing it as "a fruttful engagement."
According to him, Dr. Mbemba Hydara and Dr Pa S. Kebbeh benefited from a program that is illustrative of the future shape of South-South cooperation.
He further commended them for leaning into research as they got the backing of collaborators scattered across the globe.
"That is the manifestation of hard-work, dedication and vision," he voiced out.
'Shaping The Future Of ICT'
Speaking earlier, the Vice-Chancellor of UTG, Prof. Herbert Robinson, said the 13th CNRIA represents a significant milestone in our collective pursuit of knowledge and innovation.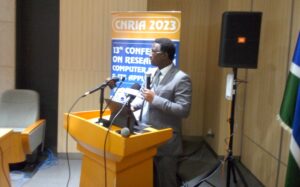 "We have no doubt that the outcome will be fruitful," he remarked while making it very clear that the platform will inexorably help shape the future of ICT.
Prof. Robinson seized the opportunity to remind the gathering that Africa cannot afford to be left behind in technology.
For his part, the President of ASCII Professor Cheikh Bamba Gaye emphasized the need for Gambia and Senegal to revamp the collaboration that existed in the 80s, leading to the formation of the Senegambian Confederation.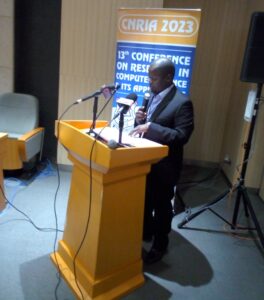 "We have to combine our efforts for sustainable development," he indicated.