Gambian delegates in Germany are identifying undocumented Gambian migrants arrested by German police for subsequent deportation to The Gambia.
German police authorities have been arresting and detaining undocumented Gambians in the country over the past months and weeks, as the European country intensifies the mass deportation of undocumented Gambian migrants.
However, they couldn't do so without proper identification and the said Gambian delegates seem to be already making the German officials' efforts all too easy now.
In an exclusive interview, Yaya Morro Yaffa, a Gambian migration activist based in Berlin, Germany, confirmed the presence of the said Gambian delegates in Germany.
"Yes, as you have read, that was how it is. There were some officials described as delegates by the German police some 2 weeks ago, when they made a specific target on searching [for] Gambians to be sent to the immigration department for identification purposes," Yaffa said.
He said they had been engaged in raising public awareness through media and organized a demonstration on Saturday from 2 pm to 5pm in Stuttgart, the capital, and the largest city of the German state of Baden-Württemberg, where the majority of Gambians are living. "But I'm living in Berlin, so I have an eye on Berlin," he said.
More Deportations to the Gambia in Coming Weeks, Months
As per Konrad Adenauer Stiftung, a German foundation, there are over 16,000 Gambians in Germany – 70% are in the region of Baden-Württemberg. It's stated that 4,240 Gambians have no longer the right to stay in Germany and will get deported.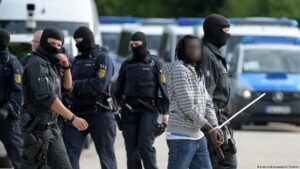 From 2018 to date, Germany alone has deported more than 500 Gambians back to The Gambia, where inflation, unemployment and exploitation have over the years been the order of the day as the economy crumbles.
However, this seems to be not enough for the Germans, and Germany is planning to deport more Gambians, according to sources.
Asked whether this means there would be more deportations anytime from now on, the migration activist responded: "Sure, there have already been a chartered deportation flight to The Gambia recently as I understood, and, sure, expectantly there will be a lot of chartered deportation flights going to The Gambia in which the majority of Gambians living in Baden-Württenberg can be deported."