Once again, the Sainabou Martin Sonko issue which had bogged the Kanifing Municipal Council (KMC) for the past two years, has refused to go away, with the ongoing Local Government Commission of Inquiry getting into the fray, describing the decision to transfer her to Kerewan Area Council at this material time as an interference with their work.
The Commission also quite rightly questioned why the so-called 'independent' Local Government Service Commission should transfer her to another council when she is already under suspicion of being involved in fraud and mismanagement at the KMC.
We have all been witnesses to how hard the government, through the Ministry of Lands and Regional Governments had been fighting tooth and nail to get her re-instated as Chief Executive Officer (CEO) of KMC despite all the evidence of fraud and mal-administration she had been suspected of being involved in by a report of the very inspection team of experts set up by the ministry to investigate the matter. One would therefore wonder why, despite all that evidence against her, the government not only failed to sack and prosecute her, but they even insisted on her re-instatement, even to the extent of ordering the damage to an office door in the new KMC building in order to give her access to the new CEO office.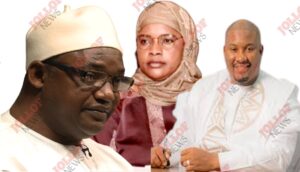 Why would the Local Government Service Commission decide so soon after the re-election of Talib Ahmed Bensouda as mayor, to remove her from the KMC? While no reasons have so far been advanced by the Service Commission for their decision, but some political analysts attribute it to the failure of the government to achieve their objective of using her to discredit Mayor Bensouda and make him unpopular to help the NPP candidate defeat him during the mayoral elections. Now that Bensouda had been re-elected with an even bigger margin, then maintaining Mrs Sonko at the KMC would be of no benefit to the government, hence the decision to 'exile' her to Kerewan.