Chairperson of the Local Government Service Commission has said he is not aware of any policy that allows loans to be given to Gambian councillors
Chair Momodou Jallow made this assertion whilst testifying before the Local Government Commission of Inquiry at Senegambia.
The Commission was set up to undertake a complete and impartial investigation into the administrative and financial operations of councils, with the ultimate aim of identifying lapses and coming up with recommendations that could help improve governance and management of grassroots affairs in line with best practices.
Mr Jallow testified today that councils should give loans only to permanent staff and not to councillors. However, he acknowledged that councillors had been taking loans.
"In practice, I have seen councillors given loans," he said.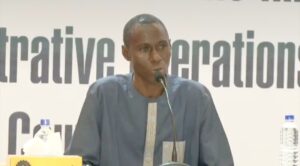 Lead Counsel Yakarr Cox inquired: "Are you not aware of any policy that exists allowing such loans to be given to councillors?"
Mr Jallow answered in the negative, adding that he knew the Finance and Accounting Manual only mentioned staff.