American International University West Africa (AIUWA) has held a graduation ceremony or convocation for 247 students who have successfully completed their bachelor's degree studies in various fields at the university.
The students were drawn from the College of Nursing, College of Medicine and Health Sciences and College of Management and Information Technology, and they majored in areas such as General Nursing, Midwifery, Anaesthesia, Pharmacy Technicians, Accounting & Finance, Business Administration, Computer Science & Technology, Human Resources & Labor Management, and Philosophy, Politics and Economics.
Speaking on the occasion held on Saturday, Professor Makie Taal, vice chancellor of AIUWA, said: "Today is made possible by the extraordinary work and commitment by the University faculty and administration members and the diligence, hard work and adequate achievements of every student in the Class of 2023.
"All of you have excelled in an exceptional way giving us the privilege and honour to celebrate your outstanding performance during your time at AIUWA. You have fulfilled all the requirements to be graduated and designated as professionals in your areas of concentration,'" he said.
He advised the graduates to be true to themselves, their ethics and values, as well as strive towards being the best in whatever they do.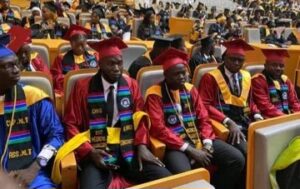 "Be true to yourselves always, to your ethics and values, and be the best at whatever you do, believe in yourself and your ability to make a difference, pursue your vision, and challenge yourself and the world around you," he said. "Celebrate yourselves and each other – everything that makes you unique, and everything that brings you together. Cultivate good networks and mentors who can guide you through your decisions. It is the combination of all this that will enable you to give the best of yourself and to leave each place better than when you found it."