The Network of National Human Rights Institutions in West Africa (NNHRI – WA), the umbrella body for national human rights institutions (NHRIs) within West Africa, today began its annual conference in The Gambia.
The three-day convergence (7-9 June 2023) was held at the Sir Dawda Kairaba Jawara International Conference Centre in Bijilo.
With their crucial role of promoting and protecting human rights within the sub-region and the Sahel, the NNHRI utilises the important annual conference to closely collaborate and strategically partner with stakeholders.
The annual meeting is expected to bring together members of NHRIs from ECOWAS member states and Mauritania to enhance the overall role of NHRIs towards the promotion and protection of human rights, with added focus on the independence and effectiveness of NHRIs, peace and security, business and human rights and the protection of migrants and internally displaced persons in the service of the network.
The forum marked the 6th consultation in a row that the network and its partners – ECOWAS, OHCHR. UNGWAS – have convened to deliberate and share lessons on human rights issues in the sub-region.
Speaking at the regional consultation, Joseph Whittal, president of the sub-regional human rights network who doubles as a Commissioner at Ghana's Commission on Human Rights and Administrative Justice, said that this year's consultation had come at a time the global human rights community are celebrating very important milestones, such as the 75th Anniversary of the Universal Declaration of Human Rights (UDHR), a document aptly described as the "common standard of achievement for all peoples and all nations".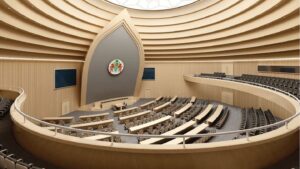 "The values set down in this historic Declaration are of enduring application throughout the decades but in the light of developments in our times, many of these values are facing serious backlash," he said, reiterating the "tremendous support" the network had continued to enjoy from ECOWAS, OHCHR and UNOWAS in "financial and technical support".
Immanuel Daniel, chairperson of The Gambia's National Human Rights Commission, spoke in the same vein.