A book about the history of the martial art sport, Taekwondo, in The Gambia is set to be launched in The Gambia.
Titled 'A Brief History of Taekwondo in The Gambia', the book is authored by Grand Master Fernando Abaga Edjang.
It will be launched on Saturday 10 June 2023 at the Conference Room of the Law Faculty of The University of The Gambia (UTC) at 6 pm.
The Korean martial art, which involves punching and kicking techniques and is one of most, if not the most, popular martial arts in The Gambia and has even been developing and growing at a quicker pace.
Developed in Korea, the art seeks to give a sense of self-esteem, knowledge of self-defence, and heightened mental and physical wellbeing for practitioners.
Speaking about his book, the author told JollofNews: "This book is the latest addition to my efforts to contribute to the development of Taekwondo in The Gambia. It is a ground-breaking and ambitious endeavour that has never been attempted before in The Gambia and, possibly, in Africa broadly."
While it focuses on Taekwondo, the author said, it is written in such a way that it would appeal to a broader audience, particularly sports enthusiasts and stakeholders.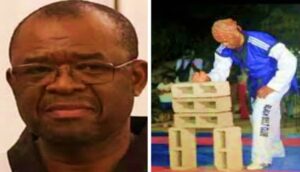 According to the author, it is a historical record of the evolution of Taekwondo in The Gambia since its introduction in 1987.
"It clearly identifies the constraints and challenges and lays out possible solutions with an overview of the institutional architecture in charge of Taekwondo in particular and of sports in general," he stated.